Pelican
From MiddleWiki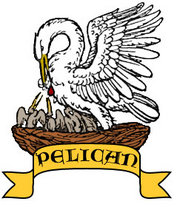 A
Society
-wide order that carries a
Patent of Arms
. This is the highest recognition one can receive for service to the Society. The
badge
for this order is a
pelican in its piety
. Companions of this order are titled "
Master
" or "
Mistress
" of the Pelican and may use the abbreviation
OP
behind their name. It is equal in rank to the
Chivalry
(including both the
Master at Arms
and
Knight
),
Laurel
and
Defense
.
Masters and Mistresses of the Pelican may wear a cap of maintenance as a symbol of their station. The cap of maintenance is a red hat with a turned up brim of ermine similar to those worn in the late 15th and into the 16th centuries. However, few Pelicans in the Middle Kingdom wear one, preferring to indicate rank with a medallion of the badge of the order. The cap of maintenance is most often seen being worn in court.

The dependant of a Pelican is usually called a protege or associate, whom they give guidance and instruction in service to the Society.


The Order of the Pelican is a polling order; members meet regularly in person (and electronically) to discuss potential new inductees and give their advice to the Crown. It is a frequent misconception that the Pelicans elect new members. They merely advise the King and Queen of whom they feel is ready to join the Order. It is the Crown that chooses who to induct and elevates any individual.
See also the Pelicans Populace Category for a list of Pelicans with Persona pages in this Wiki.
The webpage for the Order of the Pelican is: http://pelican.midrealm.org/
Pelicans of the Middle Kingdom
As of July 1, 2017 there have been 297 pelicans recognized in the Midrealm.
| Name | Elevation Date |
| --- | --- |
| Thorvald inn Grimmi | 22 Oct, 1972 (A.S. 7) |
| Caellyn y'Vearn Fitzhugh | 21 Aug, 1976 (A.S. 11) |
| Andrew of SeldomRest | 09 Oct, 1976 (A.S. 11) |
| Richard of Alsace | 09 Oct, 1976 (A.S. 11) |
| Rolac the Wise | 20 Aug, 1977 (A.S. 12) |
| Finnvarr de Taahe | 12 Aug, 1978 (A.S. 13) |
| Daemon de Folo | 12 Aug, 1978 (A.S. 13) |
| Alessandra dal Castelsalice | 18 Aug, 1979 (A.S. 14) |
| Rory O'Tomrair | 23 Aug, 1980 (A.S. 15) |
| Dagan du Darregonne | 23 Aug, 1980 (A.S. 15) |
| Ealasaid nic Phearsoinn | 24 May, 1981 (A.S. 16) |
| Cariadoc of the Bow | 15 Aug, 1981 (A.S. 16) |
| Charles Stewart O'Connor | 15 Aug, 1981 (A.S. 16) |
| Polidore Haraldsson of the Dented Helm | 21 Aug, 1982 (A.S. 17) |
| Brummbar von Schwarzberg | 26 Feb, 1983 (A.S. 17) |
| Einar Lutemaker | 20 Aug, 1983 (A.S. 18) |
| Gwennan o'r Afon Rhedeg | 20 Aug, 1983 (A.S. 18) |
| Arwyn Antarae | 15 Oct, 1983 (A.S. 18) |
| Laurelen Darksbane | 15 Oct, 1983 (A.S. 18) |
| Ithriliel of Silverlake(resigned) | 15 Oct, 1983 (A.S. 18) |
| Karl Ulfson | 18 Aug, 1984 (A.S. 19) |
| Graidhne ni Ruaidh | 18 Aug, 1984 (A.S. 19) |
| Moonwulf Starkaadersson | 04 May, 1985 (A.S. 20) |
| Caradoc Llew Du ap Morgan | 17 Aug, 1985 (A.S. 20) |
| Enid Aurelia of the Tin Isles | 17 Aug, 1985 (A.S. 20) |
| Robert MacGryffyn | 17 Aug, 1985 (A.S. 20) |
| Winifred Yseulte of Hall's Isle | 18 Jan, 1986 (A.S. 20) |
| Meriel de Blackwoode | 16 Aug, 1986 (A.S. 21) |
| Catherine Aimee le Moyne de Bretagne | 15 Aug, 1987 (A.S. 22) |
| Genvieve du Vent Argent | 15 Aug, 1987 (A.S. 22) |
| Claire FitzWilliam of Lynnwood Keep | 03 Oct, 1987 (A.S. 22) |
| Vasili iz Naitemneshoi Dollina | 09 Jan, 1988 (A.S. 22) |
| Lucas Otto Gustaf Oswald Stephan vom Schnecke | 20 Aug, 1988 (A.S. 23) |
| Merlume de Lunecorne of Narwhale Keep | 20 Aug, 1988 (A.S. 23) |
| Siobhan Medhbh O'Roarke | 08 Oct, 1988 (A.S. 23) |
| Aedan o Kincora | 13 May, 1989 (A.S. 24) |
| Caffa Muiriath | 13 May, 1989 (A.S. 24) |
| Elfleda Tarsella Bethoc | 01 Aug, 1989 (A.S. 24) |
| Carlo dalla Casa | 13 Jan, 1990 (A.S. 24) |
| Gareth Tancred Wilfrith | 12 May, 1990 (A.S. 25) |
| Eliahu ben Itzhak | 16 Jun, 1990 (A.S. 25) |
| Talymar gan y Llyn | 23 Jun, 1990 (A.S. 25) |
| Aleksandra Ivanova Nemka | 18 Aug, 1990 (A.S. 25) |
| Katerina de Turenne | 18 Aug, 1990 (A.S. 25) |
| Alan Culross | 18 Aug, 1990 (A.S. 25) |
| Fiona Averylle O'Connor of Maidenhead | 13 Oct, 1990 (A.S. 25) |
| Caroline de Mercier | 17 Aug, 1991 (A.S. 26) |
| Henry of Linlithgow | 23 Nov, 1991 (A.S. 26) |
| Frederic L'Avarre | 23 Nov, 1991 (A.S. 26) |
| Ricard of Sable Tree | 23 Nov, 1991 (A.S. 26) |
| Cordelia Tichy | 11 Jan, 1992 (A.S. 26) |
| Katherine of Sternfeld | 11 Jan, 1992 (A.S. 26) |
| Melisande de Marmande | 07 Mar, 1992 (A.S. 26) |
| Talan Gwynek | 10 Oct, 1992 (A.S. 27) |
| Alinor of Braeford | 09 Jan, 1993 (A.S. 27) |
| Dathi Thorfinnsson | 24 Apr, 1993 (A.S. 27) |
| Leanore de Vertearbors | 21 Aug, 1993 (A.S. 28) |
| Timothy Garraghan o Leitrim | 15 Jan, 1994 (A.S. 28) |
| Karl Aerdigwidder von Zauberberg | 12 Feb, 1994 (A.S. 28) |
| Mairin of the East Isles | 14 May, 1994 (A.S. 29) |
| John of Sternfeld | 14 May, 1994 (A.S. 29) |
| Alfred of Chester | 11 Jun, 1994 (A.S. 29) |
| Thorbjorn the Graysides | 09 Jul, 1994 (A.S. 29) |
| Melchior Stoneteeth | 18 Aug, 1994 (A.S. 29) |
| Margherita Alessia | 18 Aug, 1994 (A.S. 29) |
| Trelogin Tavistok | 18 Aug, 1994 (A.S. 29) |
| Brusten de Bearsul | 20 Aug, 1994 (A.S. 29) |
| Alys Katharine | 20 Aug, 1994 (A.S. 29) |
| Aaron Swiftrunner of the Stone Keep | 20 Aug, 1994 (A.S. 29) |
| GraziaGeralda Louisa de Navarra | 15 Oct, 1994 (A.S. 29) |
| Minna von Lubeck | 15 Oct, 1994 (A.S. 29) |
| Tamarra Amalthea de Romany | 29 Oct, 1994 (A.S. 29) |
| Myfanwy ferch Elys | 05 Nov, 1994 (A.S. 29) |
| Bronwyn ferch Gwyn ab Rhys | 05 Nov, 1994 (A.S. 29) |
| Sonya Panek of Prague | 07 Jan, 1995 (A.S. 29) |
| Bardolph Odger Windlauffer | 27 May, 1995 (A.S. 30) |
| Maria Teresa Ribeiro dos Santos | 27 May, 1995 (A.S. 30) |
| William of Fairhaven | 10 Jun, 1995 (A.S. 30) |
| Hector of the Black Height | 01 Jul, 1995 (A.S. 30) |
| Elena de Vexin | 08 Jul, 1995 (A.S. 30) |
| Anne Geoffreys of Warwick | 08 Jul, 1995 (A.S. 30) |
| Geoffrey of Warwick | 08 Jul, 1995 (A.S. 30) |
| John ap Wynne | 16 Aug, 1995 (A.S. 30) |
| Ragni Dzintara of Amberhall | 16 Aug, 1995 (A.S. 30) |
| Todric han Raullsohn Koenig | 19 Aug, 1995 (A.S. 30) |
| Zardrick Vansson | 21 Oct, 1995 (A.S. 30) |
| Coley Cuthbert | 11 Nov, 1995 (A.S. 30) |
| Serena Arianwy Holmes | 16 Dec, 1995 (A.S. 30) |
| Dorinda Scorpione | 24 Feb, 1996 (A.S. 30) |
| Foscadh O'Dubhda | 09 Mar, 1996 (A.S. 30) |
| Dmitrii Volkovich | 30 Mar, 1996 (A.S. 30) |
| Catherine de la Rose | 13 Apr, 1996 (A.S. 30) |
| Takaya Mereleone | 13 Apr, 1996 (A.S. 30) |
| Menken Brechen | 20 Apr, 1996 (A.S. 30) |
| Arwenna of Kelsley | 27 Apr, 1996 (A.S. 30) |
| Bardolf Ulfacson | 11 May, 1996 (A.S. 31) |
| Gunther von Stein | 11 May, 1996 (A.S. 31) |
| Jhondo Oakenshield | 22 Jun, 1996 (A.S. 31) |
| Giles Devon | 28 Sep, 1996 (A.S. 31) |
| Jafar al-Safa | 28 Sep, 1996 (A.S. 31) |
| Kaellyn mac Dermott of Leinster | 25 Jan, 1997 (A.S. 31) |
| Lisa Dolorosa | 01 Feb, 1997 (A.S. 31) |
| Comar gyr Mirand | 01 Feb, 1997 (A.S. 31) |
| Garlanda de Stanas | 22 Feb, 1997 (A.S. 31) |
| Etaoin O'Fearghail | 01 Mar, 1997 (A.S. 31) |
| Erik Erikson | 14 Aug, 1997 (A.S. 32) |
| Moria the Black | 13 Sep, 1997 (A.S. 32) |
| Melisande of Woodcrest | 10 Jan, 1998 (A.S. 32) |
| Margaret Malise de Kyrkyntolaghe | 17 Jan, 1998 (A.S. 32) |
| Katharina von der Waldwiese | 07 Feb, 1998 (A.S. 32) |
| Brigh of Writer's Keep | 25 Jul, 1998 (A.S. 33) |
| Brand Thorwaldsen | 13 Aug, 1998 (A.S. 33) |
| Ilyana Ekaterina Yosipovna | 13 Aug, 1998 (A.S. 33) |
| Palymar of the Two Baronies | 14 Aug, 1998 (A.S. 33) |
| Lewys Michael Patrick Blackmore | 14 Aug, 1998 (A.S. 33) |
| Barak Carthalo | 14 Aug, 1998 (A.S. 33) |
| Kirsten Thorsteinsdottir | 19 Sep, 1998 (A.S. 33) |
| Kaye of Triasterium | 19 Sep, 1998 (A.S. 33) |
| Alexis MacAlister of Beverlay | 06 Feb, 1999 (A.S. 33) |
| Gwyneth Felton | 20 Mar, 1999 (A.S. 33) |
| Guenievre du Dragon Vert | 10 Jul, 1999 (A.S. 34) |
| Calum MacDhaibhidh | 19 Aug, 1999 (A.S. 34) |
| Arthen ap Rhodri | 11 Sep, 1999 (A.S. 34) |
| Patrick Connor O'Donnel McPhelan | 18 Sep, 1999 (A.S. 34) |
| Ian Gourdon of Glen Awe | 18 Sep, 1999 (A.S. 34) |
| Rebekah MacTiernan | 18 Sep, 1999 (A.S. 34) |
| Elysabet de Warren | 25 Sep, 1999 (A.S. 34) |
| Arianna Lloyd | 25 Sep, 1999 (A.S. 34) |
| Rory mac Feidhlimidh | 30 Oct, 1999 (A.S. 34) |
| Therica Pembroke of Stonegate Manor | 11 Dec, 1999 (A.S. 34) |
| Sayf al Qamar Tarik ibn Abdul | 08 Jan, 2000 (A.S. 34) |
| Jervisa Wainwright | 12 Feb, 2000 (A.S. 34) |
| Rosamund Beauvisage | 26 Feb, 2000 (A.S. 34) |
| John Inchingham | 01 Apr, 2000 (A.S. 34) |
| Dafydd Blaidd | 01 Apr, 2000 (A.S. 34) |
| Arinwald Rotstein | 08 Apr, 2000 (A.S. 34) |
| Thorvald Redhair | 29 Apr, 2000 (A.S. 34) |
| Aidan Morgana Evans | 08 Jul, 2000 (A.S. 35) |
| Isaac de Hugo | 08 Jul, 2000 (A.S. 35) |
| Myles Blackheath | 17 Aug, 2000 (A.S. 35) |
| Malcolm Drum | 18 Aug, 2000 (A.S. 35) |
| Thorhalla Carlsdottir af Broberg | 16 Sep, 2000 (A.S. 35) |
| Aidan Blackstone | 02 Dec, 2000 (A.S. 35) |
| Alice of Kent | 09 Dec, 2000 (A.S. 35) |
| Antonio di Casa d'Aqua | 09 Dec, 2000 (A.S. 35) |
| Cassandra Antonelli | 21 Apr, 2001 (A.S. 35) |
| Julio Galva'n | 14 Jul, 2001 (A.S. 36) |
| Dorothea van der Zee | 16 Aug, 2001 (A.S. 36) |
| Midair MacCormaic | 22 Sep, 2001 (A.S. 36) |
| Idonia Tait | 08 Dec, 2001 (A.S. 36) |
| Brannos O'Iongardail | 05 Jan, 2002 (A.S. 36) |
| Bridget ni Cathasaigh | 04 May, 2002 (A.S. 37) |
| Timothy O'Byrne | 25 May, 2002 (A.S. 37) |
| Phillip the Pilgrim | 29 Jun, 2002 (A.S. 37) |
| Richard Morgan of Cumberland | 13 Jul, 2002 (A.S. 37) |
| Wulfgang von den Lowen | 13 Jul, 2002 (A.S. 37) |
| Sigulf Karlnar | 27 Jul, 2002 (A.S. 37) |
| Susan O'Dell | 27 Jul, 2002 (A.S. 37) |
| Ixtlilxochtl Cacique | 13 Aug, 2002 (A.S. 37) |
| Chai'usun of the Moritu | 15 Aug, 2002 (A.S. 37) |
| Iustinos Tekton | 15 Aug, 2002 (A.S. 37) |
| Lothair von Drachenstein | 16 Aug, 2002 (A.S. 37) |
| Sean O'Shaughnessy | 01 Feb, 2003 (A.S. 37) |
| Vorlin o'r Gwig | 05 Apr, 2003 (A.S. 37) |
| Charles Oakley | 12 Apr, 2003 (A.S. 37) |
| Kenna Harve | 28 Jun, 2003 (A.S. 38) |
| Maggie of Cnoc Cait | 06 Sep, 2003 (A.S. 38) |
| Alexander de Seton of Altavia | 06 Sep, 2003 (A.S. 38) |
| Eleanor Isabeau de Coeur | 06 Dec, 2003 (A.S. 38) |
| Fiskrhauk Hammondson | 10 Jan, 2004 (A.S. 38) |
| Brise Sanguin | 17 Jan, 2004 (A.S. 38) |
| Siobhan O'Neill | 14 Feb, 2004 (A.S. 38) |
| Galen of Ockham | 28 Feb, 2004 (A.S. 38) |
| Kassia Gildea | 15 May, 2004 (A.S. 39) |
| Finn Herjolfsson | 19 Aug, 2004 (A.S. 39) |
| Nicholaa Halden | 19 Aug, 2004 (A.S. 39) |
| Garth of the Crags | 19 Aug, 2004 (A.S. 39) |
| Heirusalem Crystoma | 30 Oct, 2004 (A.S. 39) |
| Seadna O'Bainainn | 18 Aug, 2005 (A.S. 40) |
| Caveron O'Dell | 18 Aug, 2005 (A.S. 40) |
| Robert of Griffinholme | 10 Sep, 2005 (A.S. 40) |
| Gwenhwyvar Nocturnal | 17 Sep, 2005 (A.S. 40) |
| Aylwyn of Griffenholme | 04 Mar, 2006 (A.S. 40) |
| Iasmin de Cordoba | 22 Apr, 2006 (A.S. 40) |
| Alan of Caerlaverock | 28 May, 2006 (A.S. 41) |
| Ciara McRobbie | 17 Aug, 2006 (A.S. 41) |
| Caelan O'Rogallaig | 17 Aug, 2006 (A.S. 41) |
| Rocco Vittorio Barbarossa | 17 Aug, 2006 (A.S. 41) |
| Johann Kinslayer of the Shadowclans | 17 Aug, 2006 (A.S. 41) |
| Cathan MacCullaich | 21 Oct, 2006 (A.S. 41) |
| Rhiannon Siobhan Shynane | 15 Mar, 2007 (A.S. 41) |
| Alexandra dei Finocchi | 23 Jun, 2007 (A.S. 42) |
| Roewynne Langley of Mugmort | 09 Aug, 2007 (A.S. 42) |
| Sabine de Rouen | 08 Sep, 2007 (A.S. 42) |
| Morgan Da'Eth | 12 Apr, 2008 (A.S. 42) |
| Omarad the Wary | 12 Apr, 2008 (A.S. 42) |
| Straum von Bairzog | 04 Aug, 2008 (A.S. 43) |
| William Campion | 06 Aug, 2008 (A.S. 43) |
| Acelina of Derelei | 07 Aug, 2008 (A.S. 43) |
| Moira MacGillavrey | 27 Sep, 2008 (A.S. 43) |
| Alexander Kyppyn Kirkcaldy | 18 Oct, 2008 (A.S. 43) |
| Mary Buchanan | 31 Jan, 2009 (A.S. 43) |
| Arabella Silvermane | 14 Feb, 2009 (A.S. 43) |
| Melisande de Canonwald | 21 Feb, 2009 (A.S. 43) |
| Dag Thorgrimsson | 04 Apr, 2009 (A.S. 43) |
| Torquil MacGillavrey | 04 Apr, 2009 (A.S. 43) |
| Milica of Varna | 13 Jun, 2009 (A.S. 44) |
| Jean Paul Pierrepont | 06 Aug, 2009 (A.S. 44) |
| Gwyneth Banfhidhleir | 05 Sep, 2009 (A.S. 44) |
| Konrad Mailander | 05 Sep, 2009 (A.S. 44) |
| Uadahlrich Sassmannshausen | 12 Aug, 2010 (A.S. 45) |
| Niko-Mi | 12 Aug, 2010 (A.S. 45) |
| Anna of the Western Hill | 12 Aug, 2010 (A.S. 45) |
| Etienne le Couteau des Roches | 15 Jan, 2011 (A.S. 45) |
| Philip White | 12 Feb, 2011 (A.S. 45) |
| Una Wynifreed Berry | 02 Apr, 2011 (A.S. 45) |
| Randolph Lee | 29 May, 2011 (A.S. 46) |
| Ailikn Olafsdottir | 18 Jun, 2011 (A.S. 46) |
| Helewyse de Birkestad | 25 Jun, 2011 (A.S. 46) |
| Sarafina Sinclair | 16 Jul, 2011 (A.S. 46) |
| Maddelena della Tavalozza | 11 Aug, 2011 (A.S. 46) |
| Caitlin Stuart | 11 Aug, 2011 (A.S. 46) |
| Robyyan Torr D'Elandris | 11 Aug, 2011 (A.S. 46) |
| AnnMarie Morgaine | 10 Sep, 2011 (A.S. 46) |
| Angelique Michele d'Herison | 14 Jul, 2012 (A.S. 47) |
| Alaric le Fevre | 09 Aug, 2012 (A.S. 47) |
| Gianetta Andreini da Vicenza | 09 Aug, 2012 (A.S. 47) |
| Llewellyn ap Tiernon | 09 Aug, 2012 (A.S. 47) |
| Caitriona MacDhonnachaidh | 25 Aug, 2012 (A.S. 47) |
| Francesca de Onorati | 08 Sep, 2012 (A.S. 47) |
| Lancelin Peregrinus | 08 Sep, 2012 (A.S. 47) |
| Peregrine the Lost | 08 Sep, 2012 (A.S. 47) |
| Astrid of the Yellow Rose | 08 Dec, 2012 (A.S. 47) |
| Philippe de Lyon | 19 Jan, 2013 (A.S. 47) |
| Hilary of Langford | 13 Apr, 2013 (A.S. 47) |
| Alzbeta Michalek | 24 Aug, 2013 (A.S. 48) |
| Anastasia Ivanova Kyralovna | 05 Oct, 2013 (A.S. 48) |
| Catriona nicHugh Mclaey | 03 Jan, 2014 (A.S. 48) |
| Rowan Connor | 25 Jan, 2014 (A.S. 48) |
| Maximilian der Zauberer | 15 Feb, 2014 (A.S. 48) |
| Radegund von Lutra | 15 Feb, 2014 (A.S. 48) |
| Catriona nicHugh McLae | 01 Mar, 2014 (A.S. 48) |
| Nyilas Kazmir | 03 Aug, 2014 (A.S. 49) |
| Dirk Edward of Frisia | 03 Aug, 2014 (A.S. 49) |
| Maire ingen Dauith | 23 Aug, 2014 (A.S. 49) |
| Catarina de Bruyn | 06 Sep, 2014 (A.S. 49) |
| Marie la Fauconniere | 13 Sep, 2014 (A.S. 49) |
| Dougale MacAlestyr of Newcastle | 13 Sep, 2014 (A.S. 49) |
| Wilhelm Michalik | 13 Sep, 2014 (A.S. 49) |
| Keiley Duchem | 13 Sep, 2014 (A.S. 49) |
| Stevyn Silverthorne of Drachenmoor | 10 Jan, 2015 (A.S. 49) |
| Gunnar Sigurdsson | 18 Apr, 2015 (A.S. 49) |
| Helena Sibylla | 27 Jun, 2015 (A.S. 50) |
| Gregoire de Lyon | 05 Sep, 2015 (A.S. 50) |
| Rijckaert vanUtrecht | 19 Sep, 2015 (A.S. 50) |
| Halla of Mugmort | 26 Sep, 2015 (A.S. 50) |
| Elizabethe Alles | 17 Oct, 2015 (A.S. 50) |
| Eleanor von Atzinger | 05 Dec, 2015 (A.S. 50) |
| Crespine de la Vallée | 09 Jan, 2016 (A.S. 50) |
| Alaina Blackram | 13 Feb, 2016 (A.S. 50) |
| Sarah of the Erie Sea | 02 Apr, 2016 (A.S. 50) |
| Edward Foxley | 02 Apr, 2016 (A.S. 50) |
| Bianca Rosamund | 25 Jun, 2016 (A.S. 51) |
| Petrona da Manciano | 27 Aug, 2016 (A.S. 51) |
| Kendrick Cameron | 27 Aug, 2016 (A.S. 51) |
| Justice McArtain | 27 Aug, 2016 (A.S. 51) |
| Anton Du Marais | 17 Sep, 2016 (A.S. 51) |
| Gwalchmai ap Bledig (Malachai) | 08 Oct, 2016 (A.S. 51) |
| Ellowyn Kittle von Drachenstein (in OP as Ellowyn Kittel) | 03 Dec, 2016 (A.S. 51) |
| Marissa von Atzinger | 03 Dec, 2016 (A.S. 51) |
| Genoveva von Lubeck | 11 Feb, 2017 (A.S. 51) |
| Gebhard Rauten | 04 Mar, 2017 (A.S. 51) |
| Katarina Peregrine | 08 Apr, 2017 (A.S. 51) |
| Roana Aldinoch | 06 May, 2017 (A.S. 52) |
| Aine ingen Neill mec Lugdech | 10 Jun, 2017 (A.S. 52) |
| Aibhilin ni Dhomhnaill | 24 Jun, 2017 (A.S. 52) |
| Calybrid Ine Tere | 01 Jul, 2017 (A.S. 52) |
| Soffya von Kulp | 08 Jul, 2017 (A.S. 52) |
| Aldermoureis Ventzke | 05 Aug, 2017 (A.S. 52) |
| Lucius Aurelius Valharic | 07 Aug, 2017 (A.S. 52) |
| Zuriel Aurelius Nightshade | 09 Aug, 2017 (A.S. 52) |
| Kriemhilt von Ebersberg | 10 Aug, 2017 (A.S. 52) |
| Epona Brodin | 26 Aug, 2017 (A.S. 52) |
| Gareth Oswestly | 26 Aug, 2017 (A.S. 52) |
| Maggie MacKeith | 02 Sep, 2017 (A.S. 52) |
| Moira Eiriksdottir | 09 Sep, 2017 (A.S. 52) |
| Eva vanOldebroek | 23 Sep, 2017 (A.S. 52) |
| Katalena Ivaniaia zhena Shishova | 28 Jan, 2018 (A.S. 52) |