Eva vanOldebroek
From MiddleWiki
Photo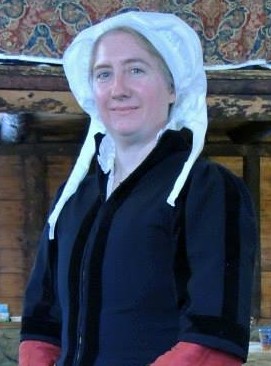 Meestres Eva
Information
Heraldry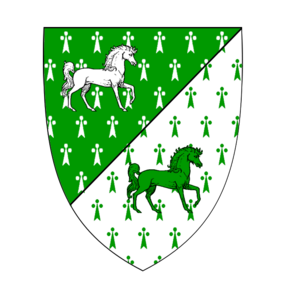 Per bend sinister vert ermined argent and argent ermined vert, two horses passant to sinister counterchanged argent and vert.
Persona
Eva is a 16th century lady from Gelderland, in the Netherlands.
Affiliations
Meestres Eva is married to Master Rijckaert vanUtrecht
Eva was apprentice and protege to Gyda Arnarsdottir (OP,OL,CB).
Lord Ulrich Eisenhart and Baroness Thomasette de Harfour are her protégés.
THL Adallisia moglie di Simon Varzi is her apprentice/protégé.
Offices & Positions
SCA Warranted Offices:

Exchequer, Canton of Rimsholt (July 2013-present)
MOAS, Region of Pentamere (Sept. 2016-2019)
MOAS, Barony of Andelcrag (2009-2012)
MOAS, Canton of Rimsholt (2002-2005)

Unofficial SCA offices:

Deputy MOAS, Pentamere Region (Nov 2013-Aug 2016)
Guild of Withie and Woolmongers Textile Muse (2006-2012)
A&S 50 Challenge Pentamere Regional Deputy (2012-2016)
Barony of Andelcrag A&S Champion (2009-2010)

Event Staff:

Baronial Border War A&S Coordinator (2002-2005)
St. Valentine's Day Massacre A&S Display Coordinator (Feb 2010)
What in Samhain A&S Coordinator (November 2013)
Northwoods Community College Co-steward and Class Coordinator (April 5, 2014)
A&S 50 Challenge Event (Roaring Wastes) Co-steward and Class Coordinator (April 18, 2015)
"Sticks and Strings" Artisan's Row Pennsic 2012, 2013, 2015 with Sunnifa Gunnarsdottir
SCA 50 Year Celebration (June 18-26, 2016); A&S Class Coordinator
Baronial Border War 34 Co-steward (June 15-17, 2018)
Midrealm 50 Year Celebration (May 2019) A&S Activity Coordinator
Baronial Border War 35 Co-steward (June 14-16, 2019)
Awards
Middle Kingdom awards:

Order of the Laurel (23 Sept, 2017)
Order of the Pelican (23 Sept, 2017)
Order of the Dragon's Heart (1 Jun, 2013)
Order of the Evergreen (6 Sept, 2008)
Order of the Willow (16 Jul, 2005)
Award of the Purple Fret (7 Jul, 2007)
Award of the Purple Fret (21 Jan, 2012)
Award of Arms (14 Feb, 2004)
Royal Augmentation of Arms (a quill pen Or) (23 Sept, 2017)

Andelcrag baronial awards:

Order of the Guardant Ram (May 5, 2007)
Order of the Salient Hart (Sept 3, 2005)
Award of the Butterfly (April 30, 2011)
Award of the Bolt (June 17, 2017)
Award of the Butterfly (May 12,2018)
Interests and SCA-related hobbies
Fiber Arts - especially Sprang
14th Century frilled veils
14th and 16th century Northern European women's clothing
Calligraphy and Illumination


Calligraphy and Illumination
A few examples of award scrolls Eva has contributed: