Calum MacDhaibhidh
From MiddleWiki
Photo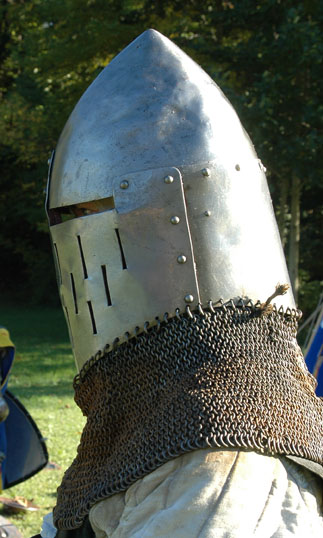 Calum in his sugarloaf helm
Information
Heraldry

blazon
Sir Calumn MacDhaibhidh is perhaps best known for his work as a Marshal (which is one of the reasons he was made a member of the Order of the Pelican.) He was knighted 25 years after authorizing as a fighter and has helped many new fighters learn the art. He also is passionate about the art of armouring.
Persona
Baron Calum has spent most of his SCA career hanging out in the 13th century, though of late he's been venturing into the 14th.
Offices & Positions
Fourth (current) Baron of Cleftlands Former Baronial Exchequer
Miscellany
Chivalric Lineage
Sir Calum was never a squire.
He was knighted by the hand of King Dag, who was knighted by King Alen, who was knighted by King Nathan and Duke Dagan (who held the sword as Nathan was not himself a knight, and only a knight can make a knight.)
He has no current squires.
Pelican Lineage
Master Calum was never a protege and has no proteges of his own.
He was made a Pelican by King ?
Interests and SCA-related hobbies
Baron Calum is very fond of armouring and is very knowledgeable about historic arms and armour.