Jafar al-Safa
From MiddleWiki
Photo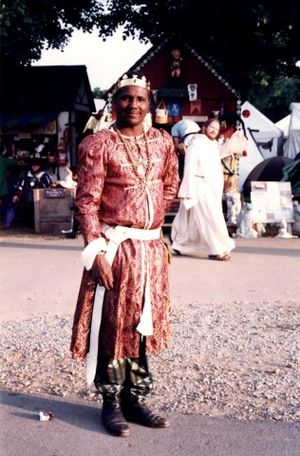 '
Information
| | |
| --- | --- |
| Resides: | |
| Status: | Deceased |
| Awards: | Visit the Order of Precedence to access a list of this person's awards. |
Heraldry

device description
Persona
Jafar al-Safa was a 12th century Saracen
Offices & Positions
Chivalric Lineage
Jafar was squire to Palymar of the Two Baronies and grand-squire to Moonwulf
Interests and SCA-related hobbies
Jafar loved to read, especially fantasy. He enjoyed role playing games and video games. He was very much a cat person, and he and Gwenllian verch Dafydd ap Rhys were co-owned by seven cats when he lived in Rivenstar. He was a member of House Rodentia as well as the House of the Lazy Snail (Palymar's household).
Reign details
48th Reign of the Middle Kingdom
Jafar al-Safa passed from this earth while Prince of the Middle Kingdom. He was given the title and rank Duke posthumously upon the successful completion of the reign of Kenna Harve, the 57th Reign of the Middle Kingdom.