Genoveva von Lübeck
From MiddleWiki
Photo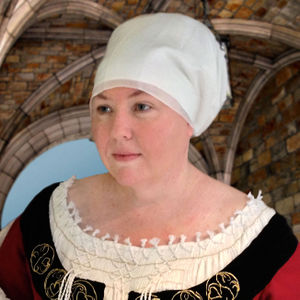 Genoveva in June 2014
Information
Heraldry

blazon
Meisterinne Genoveva von Lübeck found the SCA through her friend, Duchess AnneMarie de Garmeaulx, in 1997, but it took until 2011 before she became a card carrying member. She is best known for her research and re-creation of German Renaissance clothing and artifacts, though she also enjoys serving her Barony and the Middle Kingdom in a variety of positions. She has a particular fondness for pleatwork (modernly known as smocking), and has been researching it for several years.
Persona
Genoveva is from Lubeck, Germany. She was born in 1468 to a Lübecker Bürgomeister (mayor) by the name of Christophe von Wickede and his wife, Eva von Tode. She has birthed one healthy child, a son, from a marriage that ended in an early death. She is now a wealthy widow that enjoys and supports the arts, sciences, and services in her community. Rumor has it she occasionally disappears for months at a time with the local Landsknecht (military unit) and joins the tross (army train) for it is said, in scandalous whispers, that she has a Liebhaber amongst them and that is how she enjoys such a high standard of living for being just a mere widow.
Offices & Positions
Pennsic Event Scheduler - August 2015 to present
Pennsic A&S Champion - July/August 2015
Editor of The Pale - March 2015 to present
Pennsic Cartographer - January 2015 to present
Pennsic A&S Display Deputy - January 2014 to August 2015
Cynnabar Herald Deputy (OP) - March 2014 to present
Royal Chamberlain to Dag VII and AnneMarie III - May 2012 to May 2013
Midrealm Cartographer - May 2012 to present
Web Deputy to the Midrealm Seneschal - May 2012 to present
Cynnabar Chatelaine - April 2012 to March 2015
Cynnabar Webminister Deputy (Event Pages) - May 2011 to present
Miscellany
Genoveva is mother to Alexander von Lubeck and trossfrau to Gregor Reinhardt von Holstein. She was also a protege to Duke Dag Thorgrimsson and a student to Mistress Crespine de la Vallée.
Genoveva was placed on vigil for elevation to the Order of the Laurel at Pentamere 12th Night on January 9. 2016. She was elevated at the Coronation of King Cameron and Queen Amalie in May 2016.
Genoveva was elevated to the Order of the Pelican at Val Day on February 13, 2017 by King Edmund and Queen Kateryn.
Genoveva has one dependent: Baroness Hannah Schrieber (taken at Terpsichore on April 1, 2017).
Classes taught
Costuming:
Advanced Pleatwork Techniques
Pleatwork Apron
16th c. German Wardrobe
German Tellerbarret
Embroidery:
Blackwork Needlebook
Blackwork Pincushion
Basic Embroidery Stitches
Youth Classes:
Beeswax carving
Butter making
Leather pouch making
Period pavilion papercraft
Chain mail basics
External Links