Jahan Ara bint al-Yehya amat al-Hafeeza
From MiddleWiki
Photo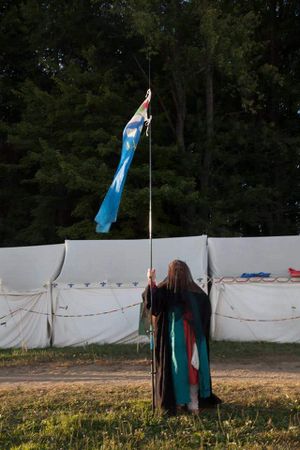 JahanAra bint al-Yehya amat al-Hafeeza al-Skyka (Baroness)
Information
| | |
| --- | --- |
| Resides: | Canton of Ealdnordwuda |
| Status: | Current Member |
| Awards: | Visit the Order of Precedence to access a list of this person's awards. |
Heraldry

blazon
JahanAra began her SCA journey in The Kingdom of Meridies, The People's Barony of Bryn Madoc, around 1992-93. As is in her nature, she dove right in, finding a love and passion for the SCA that she had yet to have found in most other recreational hobbies. A perfect hobby for an Anthropologist, whose focus was on Folklore Studies.

I started off in the kitchens, slowly developed (or reimagined) an interest in costuming, and served in Bryn Madoc as MOAS, Deputy Seneschal, Deputy Chronicler and Herald. This well-rounded base gave me so much to pull from when I moved halfway across the country in 2002.


While on this adventure, like many, I traveled the SCA persona gauntlet, starting with a Scottish Persona - Gaelena Muinie nic Collyne Mac Shuibhine), moving from Scotland in the fall, winter and spring months, to North India during the summer months.

Upon my move to the Middle Kingdom (Pentamere, Northwoods, and Ealdnordwuda), my areas of interest evolved slowly to Irish, Norse, Arabic and finally settled into 10th Century Baghdad.
Member of Clan MacEoghain - Household since 2002
Apprenticed to Zayneb Yasmin bint Hassan
Protégé to Mistress Alaina Blackram

Current Active Office - Middle Kingdom Chronicler
Awards
Order of the Pelican (2022 - OP) - Elevated by Ullr III and Annelyse III Grant of Arms (2021 - GoA)
Royal Augmentation of Arms - A dragon passant vert breathing flames proper (2021-RAug)
Award of the Purple Fretty - Middle Kingdom (2017-APFy)
Augmentation of Arms: Golden Quill - Middle Kingdom (2017-RAug)
Order of the Royal Vanguard - Middle Kingdom (2017-ORV)
Order of the Evergreen- Middle Kingdom (2017-OE)
Order of the Silver Oak - Middle Kingdom(2014-OSO)
Court Baroness- Middle Kingdom (2013, Lucien & Catarina)
Order of the Willow - Middle Kingdom(2011-OW)
Order of the Dragon's Heart- Middle Kingdom (2009-ODH)
Award of the Purple Fret- Middle Kingdom (2008-APF)
Award of Arms- Middle Kingdom (2004-AOA)
Award of Arms - Meridies (2000-AOA)


Baronial Awards (Northwoods)

White Wolf
Northern Star for Service
Northern Star for Arts & Sciences


Persona
Jahan Ara (spoken as one word) has lived in the Middle East for 21 years, having originally moved there with her late husband to steward some of her father's lands. Upon his death, she maintained that stewardship until she met and married her current husband, Bjarg Kormaksson. She now spends most of her time in Baghdad, although travels often to her husband's former home of Kiev.
Research
Heian Japan (794-1185): Culture, Law, Literature, Poetry & Costume. Flora & Fauna as it pertains to the cultural revolution

10th Century Baghdad – Culture and trade between Baghdad and Kiev, the language, and customs, clothing of a non-Muslim woman in 10th Abbasid Caliphate, food, and etiquette.

Swedish Norse as they move south toward Kiev and the trade routes to the middle east, also costume, culture, and customs as it is my husband's persona, Language


As a Non-Muslim, Norse-born Woman living in Baghdad for well over a decade and adopting, as was often the case then, the customs and some of the culture of the city, this was an incredibly fascinating time. Baghdad was a thriving city, touted as "The White City of Peace" and a huge crossroads of trade from all directions. A master hub of trade with the Norse and Rus peoples, Baghdad seemed to be the best possible place for me to land and delve into my love of customs, culture, and costume. As it has previously been a very little researched area within the SCA it took me 5 years to find enough information to actually draft the clothing.


Meanwhile, having spent quite a bit of time with a friend who studied abroad in Japan, who wanted a Japanese persona within the SCA, we noticed a great lack of classes taught, and non-samurai information available. This need for information, led us to create the Heian Anthropology Group (based on the first true Japanese Era) and now called Mono no Aware. The research that Mono no Aware does is focused on creating the entire look and feel of a Heian persona for those who choose that era, by helping integrate poetry, art, and science into the persona's world so that they are not just looking like a person from the Heian era, but so they can play the games and present themselves more fully from that era.


Other areas of Interest

Tudor England (1504-1535 specifically), Culture, politics feats of arms, costume

North Indian (14th-17th Centuries)

Folklore across the Middle Ages


Classes Taught
Heian Japan
Introduction to Heian Japan (101)
Introduction to Heian Japan (102)
Women in 8th -12th Century Japan
The Written Word in 7th – 12th Century Japan
Literature in Heian Japan
Women and Literature in Heian Japan
Poetry in Heian Japan
Costume in Heian Japan (101)
Costume in Heian Japan (102) : practical application to non Heian personas
Clothing of nobles in Japan, 8th Century -12th Century
Women's Costume in Heian Japan
Men's Costume in Heian Japan
Crafting a Kosode (how to draft and build the basic garment of Japanese costume and apply it to your persona Heian Japanese Costume in Miniature (using period doll to display and teach)
The Genpei Wars and the Transition of Heian to Kamakura
Dressing a Heian Lady
Round Table: Hearth and Home
Round Table: Social History and the impact of an emerging cultural revolution
Round Table: Socio-Political Climate of Heian Japan, and a comparison of Japan during the 8th – 12th century to that of the rest of the Medieval (European) World
Japanese Persona Workshop (co-taught with Fujinami no Kaede)
Gender Relations in 8th -12th Century Japan (co-taught with Fujinami no Kaede)
The Genpei Wars and the Transition of Heian to Kamakura
Dressing a Heian Lady


Classes Taught: 10th Century Baghdad


City of Peace, Baghdad, as a center of Trade
Crafting 10th Arab Costume 101
10th Century Arab Costume (102) – Women, Muslim & Non-Muslim
The Genzia Documents and how to use them for research in the SCA
Food and Etiquette in the Levant (taught with Iohan and Jorun Arragunnrsdottir at Pennsic)
Tiraz Bands and the Textile Industry in 10th Century Middle East
Trade Routes through Baghdad – who traveled here
10th Century Dress for non-Muslim woman (date 942 CE)
Creating an authentic persona of one living in the Arab world


Other Classes Taught (almost all included Class Notes at the time)

Holiday Folklore
Folklore and Your Persona
Folklore and the SCA
Folklore Studies (where we gather the areas of interest of the class beforehand and focus it on those regions.)
North Indian Costume
North Indian, Persian and Arab costume overview (prepared for Pennsic, taught by others)
Your Persona in the SCA
How to organize a Feast
Newcomers Guide to the SCA: Ranks, Titles, and Articles of State
Newcomers Guide to the SCA: Creating a Persona
Newcomers Guide to the SCA: My First Garb
Newcomers Guide to the SCA: Extreme Overview
Viking Trade Routes

(This list of classes and the class notes can be found at: https://sayyidajahanara.wordpress.com/articles-class-notes/ )
Offices, Positions Held, and Service
Current Offices:
Middle Kingdom Chronicler
Kingdom Webminister at Large MK Help Desk Team Lead


Local Offices: Canton of Ealdnordwuda: Deputy Seneschal, Minister of Arts & Sciences, Chatelaine, Webminister, Chronicler
Local Offices: Canton of Three Hills: Webminister
Baronial Offices: Barony of Northwoods: Seneschal (2009-2014)
Regional Offices: Pentamere Regional Chronicler, Pentamere Deputy Regional MOAS

Offices held in Meridies: Barony of Bryn Madoc: Baronial Minister of Arts & Sciences, Deputy Chronicler, Chatelaine, Deputy Herald, Deputy Seneschal

Kingdom Offices: Editor of The Pale (Deputy to Kingdom Chronicler) (2019-2022)
Other Positions and Titles
Current Pentathlon Champion for Kingdom Arts and Sciences Competition held Spring of 2017
Pentamere Regional A&S Faire Champion, 2017
Kingdom Pentathlon Winner at Kingdom Arts & Sciences in May 2017

Northwoods Arts & Sciences Champion (2011-2012)

Head of Mac & Cheese Golden Seamstress Team 3 times. Won 2nd place for Heian Costume, Novice (2009), & First Place Baghdad Costume, Advanced (2011)

Service
Event Steward for Squire's Tourney (Canton of Ealdnordwuda) 2008, 2010
A&S Coordinator for: Pentamere 12th Night (2011), Val Day (2012, 2013, 2015 w/ M Zayneb, 2016 just Artisan's Row, 2017 w/Mistress Zayneb).
A&S Coordinator for Squires Tourney 2011 (Pent A&S) & (2014)
Webminister & Co-Event Coordinator for Reign of Lucien I & Catarina de Bruyn I (2012)
Teacher
Judged at A&S (Regional and Kingdom) every year from 2005 - 2017 (except for 2014 and 2017)
Volunteered in Judged Tally Room and for various other at need jobs at Regional and Kingdom A&S over the past 10 years.
Events Run

Event Steward for Squire's Tourney (Canton of Ealdnordwuda) 2008, 2010

Co/Drop Dead Event Steward for Pentamere 12th Night (2011).
Creator and Head Researcher of Mono no Aware, a Heian Japanese Research Group in the Middle Kingdom. We have a traveling classroom that we take to events and often teach an entire day of classes.