Alaric le Fevre
From MiddleWiki
Photo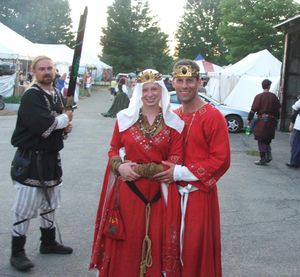 Alaric and Noelle at Pennsic, August 2005
Information
Heraldry

quarterly sable and vert with a gold cross and semi of clovers or some such
Seventy-first King of the Middle Kingdom with Queen Noelle la Chauciere, Alaric le Fevre is known for his enthusiasm for the arts martial and willingness to teach new fighters almost as well as he is for his fine garb. It is his skill at sewing that earned him the Order of the Willow.
A Captain of the Red Company, and the premiere member of the Order of the Gold Mace, Count Alaric is also known for his service to the society serving his local Barony as its Seneschal in the past and having served second term as the Earl Marshal of the Midrealm.
Persona
Alaric le Fevre is a noble knight of the 14th century.
Chivalric Lineage
Squired to Syr Theodric von Rostock (now known as EikBrandr Solgyafi)
Alaric has one squire who was elevated to the Chivalry, Crispin dela Rochefoucauld.
Alaric has the following squires: Gilebert le bracceur de Dijon and Louis de Lyon, and two former squires Stephan Von Lubeck and Matheus MacEoin.
Pelican Lineage
Alaric was not a protege before being elevated to the Pelican, and currently has no proteges of his own. He was elevated by King Savaric.
Interests and SCA-related hobbies
Martial Arts, Costuming, 14th Century studies, Armour, Bardic Arts, Star Wars
Reign details
71st Reign of the Middle Kingdom