Eilis the Stone
From MiddleWiki
Photo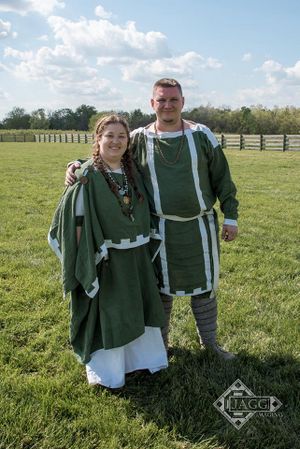 Sir Marcus and Lady Eilis
Information
Heraldry

'
Baroness Eilis the Stone

Persona
5th century Romano-Brit. Eilis is a high-born Welsh woman descended from the Siluran tribe of South East Wales. She is married to Marcus Pinarius Draconarius, a former legion commander and territorial governor.
Offices & Positions
Eilis, along with her husband Marcus, were the 7th Baron and Baroness of the Barony of Middle Marches.
Former exchequer of the Marche of Tirnewydd.
Current exchequer of the Incipient College of Saint Brutus.

Miscellany
Squire to Curra Diglach McCein
Court Baroness - March 2017
Order of the Willow - January 2014
Dragon's Tooth - February 2011
AoA - February 2016
Royal Augmentation of Arms - September 2017

Household
Marcus and Eilis are the heads of House Draconarius, founded at the Pennsic War in A.S. 52
Interests and SCA-related hobbies
Eilis is an illuminator and weaver. She enjoys studying Welsh history. She loves serving her people.