Siobhan Medhbh O'Roarke
From MiddleWiki
Photo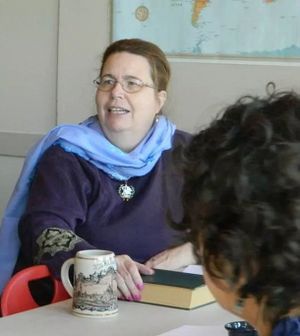 Siobhan teaching poetry at Northshield's Bardic Madness
Information
| | |
| --- | --- |
| Resides: | Nordskogen |
| Status: | Current Member |
| Awards: | Visit the Order of Precedence to access a list of this person's awards. |
Heraldry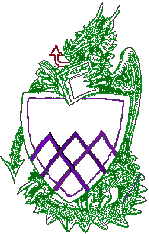 Argent, three Chevronels Braced purpure, within an oriel purpure
About this person
Persona
Siobhan was born Medhbh O'Roarke in Connacht in Ireland in about 1050; since the Normans Conquested in 1066 she was eventually re-baptised into Norman Catholicism, given a good Norman-Celticized Christian name. Thought she was considered a spinster when she was not married by age 19, eventually she found a second son of a Good Norman Family (Argawald Woodwulf) to wed. Being landless, the squire to whom she was married took service in Vienna and took Siobhan with him, a common thing to do.
About 1075 her lord took service with Robert Guiscard to conquer Southern Italy, leaving Siobhan and their child in Vienna. (Many wives, widows, and women of those who went to fight in the crusades ended up left behind when this particular Crusade began, leaving an economic pocket of uncertainty for the women left unsupported.)
A pestilential fever took the lives of the Jarl and Jarla who had sheltered her when he departed; their son, who inherited, was not inclined to support two more mouths. Siobhan took service with a prosperous innkeeper; as she was literate, skilled in accounts, and well acquainted with feeding and housing vast numbers of people on a moment's notice, she soon was virtually running the inn.
When the innkeeper died, two or three years later, Siobhan bought the inn from his widow, whom she pensioned off and allowed to stay at the inn for local color. Her Norman lord never reappeared; Siobhan assumed he either died or found a nice Tuscan girl and settled down. A short time later Syr Aldric Northmark, a Scoti who immigrated before the i-Viking blight, and an elder son with estates of his own, paid court to her. They spent 15 years together before going their separate ways.
Siobhan took her settlement from him and moved to live near Rosslyn in Scotland.
(You will notice that, like many others in our Society, Siobhan likes the clothes from many eras. She has mostly settled into the 13th and 14th Centuries, CE.)
Household
Our Household is 'Teaghlach Léaró Dóchai,' more commonly called Cinquefoil.
Our badge is the cinquefoil, and our motto this week seems to be "Arts fill the Soul. Food fills the Belly. Books fill the House." (It changes regularly.)
Members include:
Offices & Positions
Northwoods

Chronicler
MOA (before the days of MOAS)
Midrealm

Regional Seneschal, Kentucky/Michigan/Ohio region
Chronicler
Society

Publications Officer
TI Editor
Miscellany
Just to show that some things run in the family, Siobhan and former Chronicler Gwyneth Felton are sisters in real life. Gwyneth now lives in Ansteorra, in the Barony of Northkeep. She moved out of Northshield the week Siobhan moved in (Hmmmm.).
Siobhan left the Midrealm to move with her family to the West in August of 1993. Between 1993 and 2009 she lived in the Principalities of Cynagua and The Mists. In 2009 she moved to Caid to be caretaker to a friend who had fallen seriously ill. Between 2009 and 2011 she also took jobs that had her living in Ansteorra for almost a year.
In August 2011, for work reasons, she moved to the Barony of Nordskogen, in the Kingdom of Northshield. Despite the cold, she loves being in the Northshield and seeing old friends from her years in the Midrealm.
Her first event (unintentionally) was The Squires Revolt in April, AS XIII (1979), in the Lost Barony, Northwoods. (Siobhan had long been friends with Sir Nathan van Daritz, who sent her voluminous letters regarding the founding of the Barony of Illiton. However, in her many travels she had been unable to find citizens of the Known Worlde. When she approached some folk in Viking gear at a restaurant in the Northwoods baronial seat, she asked, "Are you folks in the SCA?")
The first event for which she had her own clothes was Pennsic VIII (1979).
Interests and SCA-related hobbies
Cooking: Primary editor of 'Traveling Dysshes'
Redaction and period sources
Cooking for hordes of folk (feast stewardship)
Modern sanitary cooking techniques
Event stewardship and organization
Lives of medieval women
Beginning costuming
Simple Textile Arts
Domestic management in period
Poetry
Musical performance (vocal)