Alexander Blackram
From MiddleWiki
Photo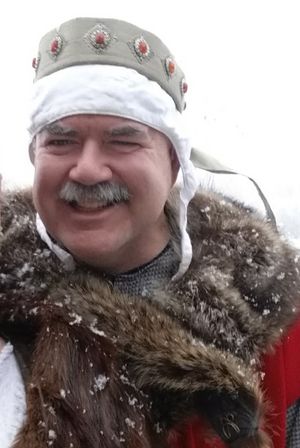 caption
Information
| | |
| --- | --- |
| Resides: | Canton of Rimsholt (West Michigan) |
| Status: | Current Member |
| Awards: | Visit the Order of Precedence to access a list of this person's awards. |
Heraldry
blazon
Persona
---
Started his young life training under different masters wherever he could find them as his parents moved frequently for business. He and his carpenter brother deciede to go to the holy land as they heard that carpenters were needed and stone masons. They worked for years then split apart from the main group as they got word that they had to go home. Upon getting to Citiveccia they found that all the boats they were going to be traveling on were destroyed in a storm. One boat had been spared the worst of it and he and his brother set to work to get the boat back in sailing condition. The owner of the boat and her crew also pitched in and soon they were set sail to his home with a few short stops to pay for the trip with spices from the orient that were being brought onboard. Upon arriving home he found that he was engaged to another merchants daughter and they were meeting tonight. It happened to be the owner of the ship that brought them there. Neither party were aware. The then moved to Venice and worked her fathers southern routes and Alexander trained with better masters in Italy and Poland. He befriended the nobility and they took him on their adventures across the seas and fighting in skirmishes he had no real stake in. He learned customs and increased the business customer base with his ease of designing big plans and getting them taken care of. He is frequently seen in the company of the notorious Monkey

Offices & Positions
---
Marshal of Fence for the Canton of Rimsholt off and on since 1994. Rapier Champion of the most Awesome Count Lucien de Bordeaux and Countess Caterina DeBruyn 2013 Marshal of Fence since 1993 Rapier Champions team at Pennsic multiple years Rapier Champion multiple times for Excellencies Andelcrag Youth Marshal of fence Winter Host site for practices since 2004.

Miscellany
---
Special information: Wears bilateral cochlear implants

Interests and SCA-related hobbies recently learning Kumihimo and working with fruitwoods for high end furniture
Fencing, woodworking, food (Excellent at intricate recipes) Has a farm with donkeys, sheep, chickens, dog and cats. All rescue and in their forever home.

Categories: Populace
Awards
Court Baron / Baroness	           04 May, 2013 (A.S. 48)  
 Order of the Bronze Ring	   19 Jun, 1999 (A.S. 34)  
 Order of the Silver Oak	   14 Jun, 1997 (A.S. 32)  
 Award of the Purple Fret	   19 Jul, 2003 (A.S. 38)  
 Award of the Purple Fret	   19 Sep, 2009 (A.S. 44)  
 Order of the Cavendish Knot	   16 Sep, 1995 (A.S. 30)  
 Award of Arms	                   16 Sep, 1995 (A.S. 30) 

Shout out on Middle Kingdom FB Page March 2018 Being a person who makes the experience better for the new or old hats in the society is a worthy and tough job at times. Taking the time to plan, be the constant backup person, the ideas man, the planner and making sure implementation goes smoothly is a background job that goes mostly unnoticed. Recently Alexander Blackram took and did an intense training in rapier for the only two that managed to make it to practice. He made it personal, informative and a good working practice. Seeing the smiles on peoples faces because he takes the time to go the extra mile to make the experience better is worth it. He is willing to drop his own practice to make sure others are engaged and finding value in their experience regularly. Without his assistance many things in the area would not get done without some fluster, but with it, things go off a lot more smoothly. Yes I am his wife and I see all the extra planning that many do not get to see. He is not showy or boisterous because he is deaf. This is my #wordfamewednesday #undertheradar #serviceextraordinary #teacher #iimplementationandfollowthrough #deafnotaloof #bionicears post.