Edmund of Hertford
From MiddleWiki
Photo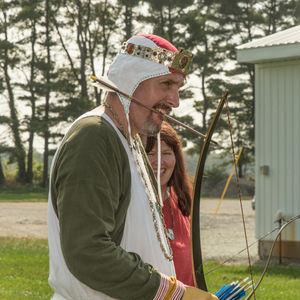 Photo taken by Master Phillip the Pilgrim at the Coronation of Edmund V & Kateryn V.
Information
| | |
| --- | --- |
| Resides: | |
| Status: | Current Member |
| Awards: | Visit the Order of Precedence to access a list of this person's awards. |
Heraldry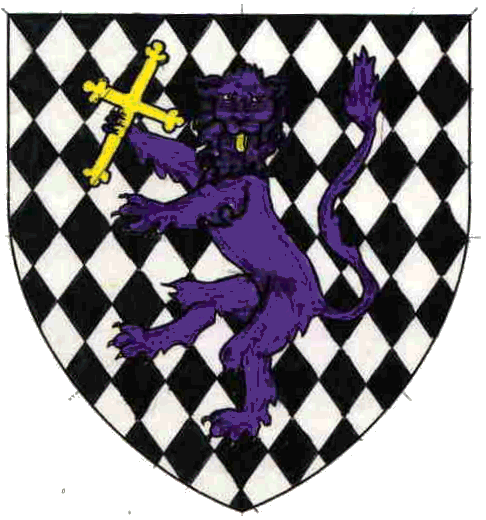 device description
Persona
Offices & Positions
Edmund was Kingdom Minister of the Arts & Sciences and Kingdom Earl Marshal
Chivalric Lineage
Edmund was not a squire at the time of his elevation; however, he was previously squired to Duke Cariadoc of the Bow.
Edmund was made a knight by King Finn Herjolfsson & Queen Garlanda de Stanas
He has the following current squires: Conal o'Hairt, Erich Jager, Aine inghean Neill mech Lugdech, Lloyd ap Rhys, Miles Longfellow. Prior to becoming Princess, Vukasin of Lozengia was also his squire.
He has had the following squires elevated to the Chivalry: Cellach MacCormaic, Thomas of Ravenhill, Malcolm Donnelly
Interests and SCA-related hobbies
Duke Edmund is easily identified across a battlefield, and not just because his black and white lozengy coat of arms is easy to spot, he is one of the tallest knights in the Middle Kingdom. A quiet man with a good sense of humor, His Grace has made many contributions to Midrealm Law and Midrealm history over his five reigns.
Reign details
53rd Reign of the Middle Kingdom
55th Reign of the Middle Kingdom
62nd Reign of the Middle Kingdom
72nd Reign of the Middle Kingdom
94th Reign of the Middle Kingdom
99th Reign of the Middle Kingdom