Ithriliel of Silverlake
From MiddleWiki
Photo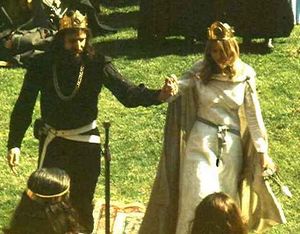 King Laurelen and Queen Ithriliel at Their Coronation in the Cleftlands in 1979.
Information
| | |
| --- | --- |
| Resides: | |
| Status: | Current Member |
| Awards: | Visit the Order of Precedence to access a list of this person's awards. |
Heraldry

blazon
The Ninteenth and twenty-second Queen of the Middle Kingdom, Ithriliel also served the Kingdom as Kingdom seneschal from May 1981 to May 1984. Ithriliel is credited with creating the first Queen's Favor. Ithriliel also created the Order of the Silver Oak for accomplishments in the Sciences, meaning those creative crafts and artistic talents applied directly to physical and practical things. Examples are Armoring, decorative metalwork, jewelry, leatherwork, woodwork, cooking, etc. It was deemed proper to separate such recognition from that given by the Order of the Willow (created by Queen Jessica of the Willows), which originally recognized both the Arts and the Sciences. The Willow was then defined to recognize accomplishments in the Arts; meaning things like calligraphy, illumination, music, needlework, embroidery, etc. The arts and sciences are together recognized as one for those members of the Order of the Laurel who by their accomplishments, determine the State of the Art in all those endeavors.
Persona
Offices & Positions
Former Kingdom Seneschal
First Baroness Cleftlands, retired.
Miscellany
Ithriliel also co-authored and published (With Countess Valmai Arcalien N'Enessiel) the first comprehensive Middle Kingdom Seneschal's handbook in 1985. It was the basis for subsequent versions and for running the office as it is even all these years later.
Interests and SCA-related hobbies
She is an avid quilter, seamstress, and embroiderer, and is known for her method and design for producing a gambeson using cotton towels for the batting and including an innovative protective expansion-fold over the spine. She has taught classes and published patterns for this and many have been made over the decades.
Reign details
19th Reign of the Middle Kingdom
22nd Reign of the Middle Kingdom