Elizabethe Alles
From MiddleWiki
Photo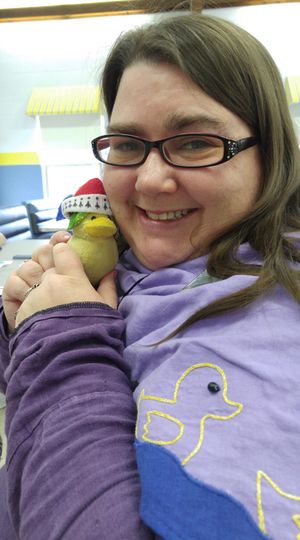 caption
Information
| | |
| --- | --- |
| Resides: | Cleftlands |
| Status: | Current Member |
| Awards: | Visit the Order of Precedence to access a list of this person's awards. |
Heraldry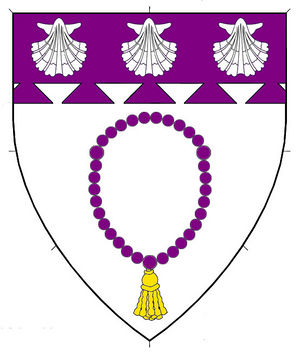 Argent, a paternoster purpure tasseled Or and on a chief dovetailed purpure three escallops argent.
Persona
Elizabethe Alles is the daughter of a successful London merchant who specialized in religious goods. A devout Catholic, Elizabethe has followed the religious turmoil in her homeland with dismay and trepidation. A paternosterer and jewelry merchant in her own right, she is well-traveled and knowledgeable about the wider world from accompanying her merchant parents on their journeys. She also enjoys music, puppetry, toy-making, and all forms of merry-making. She frequently dons the garb of other periods and lands.
Offices & Positions
Minister of Youth
Dean of Midrealm Page School, October 2020-present
Special Projects Deputy to Kingdom MOY, January 2019-October 2020
First Deputy to Kingdom MOY, September 2016-January 2019
Middle Kingdom, September 2011-October 2014
Oaken Region, January 2007-September 2011
Marche of the Unicorn, April 2004-December 2006
Youth Activities Coordinator, Middle Kingdom 50th Anniversary Celebration, 2019
Largesse coordinator for William & Isolde's reign, 2017
History Display Coordinator, SCA 50 Year Celebration, 2016
Coordinator food and refreshments for Pennsic A&S display artisans, 2014
Co-Coordinator, Midrealm Day at Pennsic Youth Point, 2011-2014
Coordinator, Paternoster Day, Pennsic Artisans Row, 2010-2013
Coordinator, Cleftlands Noblesse Largesse swap, 2012 & 2013
Historian, Barony of Flaming Gryphon, August 2008-March 2009
Minister of Arts & Sciences, Marche of the Unicorn, April 2005-May 2007
Miscellany
Pelican Lineage
Elizabethe was a protege to Master Philip the Pilgrim
She has the following current proteges:
Laurel Lineage
Elizabethe was an apprentice to Mistress Zsof.
She has the current apprentices:
Interests and SCA-related hobbies
Classes taught
Paternoster classes
Beyond the Bedes: Paternoster Gauds and Terminals
Bidding the Bedes: An Introduction to Paternosters
Paternosters: The Evidence
Prayer Beads in England/English Rosaries and Paternosters
Skully Bits: Skulls and Skeletons in Prayer Beads
Paternosters: A Visual History of Period Prayer
History classes
Child's Play
Dolls in SCA Period
The English Reformation
Medieval Active Games

Jewelry classes
Basic Beading
Beaded Coral Jewelry in the Renaissance
Cold Gemstone Setting
An Elizabethan Necklace
History of Beaded Jewelry
Introduction to Renaissance Jewelry
Making a 14th Century Wire Brooch
Making an Italian Renaissance Scaletta
Making Fibulae
Making Reasonably Period Looking Renaissance Pearl Drop Earrings
Making Rus Temple Rings
Ooo! Shiny! Period Jewelry You can Make Yourself /Creating Inexpensive Jewelry
Rings on their Fingers: Making Wire Rings
Roman Bead and Wire Jewelry
Roman Earrings
Superstitions about Gemstones
Thrifting for SCA Jewelry

Other hands-on classes
SCA Life classes
How to Be an Effective Minister of Youth
Introduction to Midrealm Page School
One Event to Amuse them All: Making the SCA Fun for Families
Recruiting and Retaining Volunteers
Researching the rare, unusual, or taboo
Running Youth Activities in the Midrealm
SCA Youth Activities and You
Share the Love: Tokens of Appreciation
Taking a Belt from a Peer
External Links