Maggie MacKeith
From MiddleWiki
Photo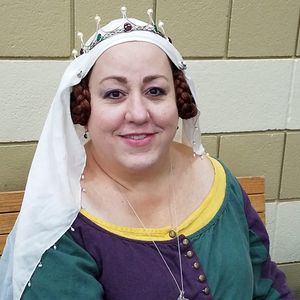 Baroness Maggie MacKeith
Information
Heraldry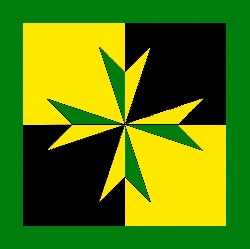 Quarterly Or and sable, a Maltese cross counterchanged vert and Or within a bordure vert.
Persona
Maggie MacKeith is a Scotswoman, born in Inverurie, in Abderdeenshire, in the early 14th Century. She is betrothed to Fergus MacPherson.
Offices and Positions
First Baroness of Shadowed Stars, invested May 30, 2015, by Ragnvaldr III, stepped down April 2018
Kingdom Media Liaison, May 7, 2016 through November 2019
Constellation Regional Chatelaine, May 2017 through April 2019
Seneschal for Shadowed Stars, from November 2013 thru April 2015
Constellation Regional Exchequer 2005-2007
Chatelaine, Dragon's Vale, 1993-1995
Chatelaine, Barony of Sacred Stone, 1989-1990

Miscellany
I started the SCA in 1987 and have enjoyed service and volunteering, in one way or another, for my entire SCA career. Although I moved a bit at the beginning, I have been happily active in the Midrealm since 1992. My greatest joy is helping others feel welcome and included in the magic of the SCA Dream.

Photo courtesy of Baroness Genrose.
Awards/Recognition
AoA: Spring Coronation, 1992 ** Ronin and Katya
Purple Fret: Mounted War Games IV, 2013 ** Lucien and Catarina
Dragon's Heart: Pennsic, 2014 ** Cameron and Amalie
Baroness, Shadowed Stars: This Land Baronial Investiture, 2015 ** Ragnvaldr and Arabella
Pelican, placed on vigil Kingdom A&S, May 27, 2017, elevated Mounted War Games VII, September 2, 2017 ** William and Isolde

Proteged to: Master Sigulf Karlnar from 2003-2017

Protégés: Zilia degli Guiduci
Tegan Marie Silvertree
Astridr Zahra Ymirsdottir
Yamamura Kitsune
Kitta