Alaina Blackram
From MiddleWiki
Media:Example.ogg
Photo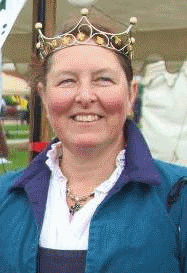 caption
Information
Heraldry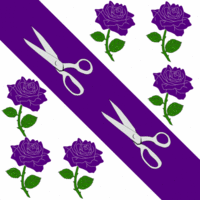 Argent, on a bend purpure between six roses purpure slipped and leaved vert, two pairs of scissors argent.
Persona
I am a 16th century spice and fabric merchant in Italy who is learning to be a tailor as it never hurts to expand business.
Offices & Positions
Elevated to the Order of the Pelican by: the most fabulous Nikolai and Serena
Date of elevation: 13 Feb, 2016 at St Valentines Massacre in Three Hills/Andelcrag/Pentamere/Middle Kingdom
Marshal of Fence of the Field since 1994 Marshal in Training for Hound Coursing Start 2017 Chief of Hospitality corner at Baronial Border War (2017) Chief of Hospitality corner at Rose Tourney (2015) Organizer of the Ballfield party at Baronial Border war from 2005-2015 Largesse Coordinator for the reign of Lucien and Catarina
I have been local seneschal for Rimsholt Andelcrag Baronial A&S minister Pentamere Regional A&S minister
I am the current A&S minister for the Canon of Rimsholt
Creator of the banners for the Angry Pelican fighting unit 2017, Designer of the pelican motif Syr Silverthorn I am chief designer of ablackram designs at Spoonflower which specializes in banners to make the experience more real.
Miscellany
Interests and SCA-related hobbies
To numerous to count, yet there is always more to learn and see.Category:Italian Personas
FB sewing page Sew along with Alaina aka Alainasewing Ablackram designs at Spoonflower.com Mostly custom banners

|