Andreas Blacwode
From MiddleWiki
Photo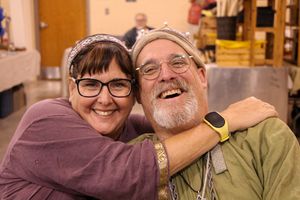 Andreas Blacwode
Information
| | |
| --- | --- |
| Resides: | Midlands, Midrealm |
| Status: | Current Member |
| Awards: | Visit the Order of Precedence to access a list of this person's awards. |
Heraldry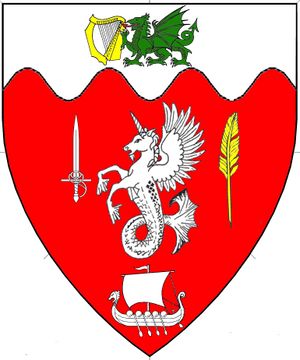 Purpure, a winged sea unicorn between in fess two rapiers and for augmentation on a chief wavy argent a dragon passant vert sustaining a harp Or, and for augmentation in base a drakkar argent.
Previously known as Andrew Blackwood MacBaine the Purple.
Persona
Andreas is a Norman clerk, poet and soldier from England between 1185-1210. Andreas was made a Baron of the Court of William and Isolde at Pennsic 46, put on Vigil for the Order of the Pelican at Festival of Maidens in January of AS 54 by Seto and Ynes, and then elevated on May 1, AS 55, in the 100th Reign of the Middle Kingdom.
Title
The title Andreas uses as Pelican is Rædesmann. As a Norman who was born in England, lives in a world where Saxons are subject to Norman administration, and speaks Anglo-saxon, he felt that it would be helpful to use a title that Saxons would recognize and understand. However, he doesn't use it after his name, but before it, as a proper Norman lord does.
Rædesmann is an old-english word that means "counselor, advisor, councilor".
Associations
Proteges & Students
Rashid al-Sanna
Reishi Honda
Gelis MacKitterick
Former Relationships
Protege to Arabella Silvermane
Apprentice to Amelie d'Anjou
Squire to Thomas Pennyngton
Households
Online
Offices & Positions
Chancellor of the Royal University of the Midrealm August 2021-Present
Deputy to the Corporate DEI Officer 2020-Present
Chamberlain/Staff Steward, Their Excellencies of Ayreton 2020-Present
Enthronement Committee of the Reign of Seto GesshukoSeto & Ynes 2019-2020
Talvas Herald - Deputy for Special Projects 1 2021-Present
MidRealm Clerk of Precedence 2019-2021
Barony of Ayreton SMO 2020-Present
Barony of Ayreton Interim Seneschal 2020
Barony of Ayreton Herald 2018-2020
Barony of Ayreton MOAS 2018-2020
Vice-Chancellor of the RUM October 2019-August 2021
Provost of the RUM 2018-2019
KMOAS Deputy for the Website 2017-2018
KMOAS Deputy for Criteria 2017-2018
Leader of the early-period music ensemble Viento Antiguo 2015-Present
Steward of the Revels / Senior Adviser to the Baron & Baroness of Ayreton 2016-2020
Classes
Vocal Heraldry as Performance
How to Run a Royal Court
How to Write Custom Scroll Texts
Poetry of Western Europe 600-1600 ce
Miscellany
Interests and SCA-related hobbies
Work for William and Isolde
Things written (total of 51 scroll texts and assorted other things)
Coronation of William and Isolde (May 6)
Coronation Ceremony co-writer and editor
Processional Boast for William and Isolde
Kingdom Augmentation for Edmund and Kateryn
Royal Augmentation for Sorcha
Silver Oak for Rudiger
Court Barony for Flan
Pelican scroll text and ceremony text for Roana
Battle of the Inland Seas (May 20)
Dragon's Heart for Beline
Ragnarok Rampage (May 20)
Sapphire for Marie
Willow for Sammi
Evergreen for Saraswati
Fret for Siobhan
Crown Tournament (May 27/28)
Processional Boasts for William and Isolde (Saturday and Sunday)
Knighting scroll text and ceremomy text for Ulrich
Northern Oaken War Maneuvers (June 10)
Evergreen for Corrie
Red Company and Gold Mace combo for Dirk of Frisia
Court Barony for Sophie the Orange
Baron Wars (June 24)
Evergreen for Malla
Cavendish Knot for Serena (not given till Pferdestadt)
Gold Mace for Sigenandus
Red Company for Zygmunt
Investiture boast for Konrad and Isibel of Red Spears
Simple Day (July 1)
Willow for Cecily
Gold Mace for Johan
Dragon's Heart for Ronan Keith
Master of Defence scroll text and ceremony for Lizabetta
Day of Play (July 7)
Push for Pennsic (July 7)
Evergreen for Chaya-Simcha
Purple Fret for Siobhan of Flaming Gryphon
Swine and Roses (July 15)
Willow for Gunnar
Oak for Fergus
Laurel scroll text and ceremony for Lucretia
Laurel scroll text and ceremony for Jadwiga
Tyger Hunt (July 15)
Pennsic (August 5-9)
Court Barony for Nickolas of Windreach
Pelican scroll text and ceremony for Valharic
Baroness Wars (August 27)
Pelican scroll text and ceremony for Gareth
Pelican scroll text and ceremony for Epona
Court Barony for Acelina
Greenwood for Adella
Purple Fret for Gailen
Evergreen for Gillian
Evergreen for Gwendolyn
Greenwood for Renzokuken
Dragon's Heart for Saraswati
Dragon's Heart for Terion
Mounted War Game (September 2)
Fret for Diana
Fret for Sebastian
Pelican scroll text and ceremony for Maggie
Harvest Days (September 9)
Royal Vanguard for various Champions
Coronation of Cellach and Vukasin (September 23)
County for William
County for Isolde
Rose for Isolde
Court Barony for Phl
Court Barony for Fiadnata
Vanguard for Hengist
Sapphire for Gavin
Willow for [REDACTED]
Fretty for Mei Li's Brigade
Fretty for Pennsic 46 MidRealm Court Bar Staff
Royal Augmentation for all scribes who contributed during the reign
Herald In Charge:
Ragnarok Rampage
Border Skirmish
Day of Play
Other
A&S Tally Room Staff for the Kingdom A&S Competition 2016
Co-Event Steward for The Crown Tournament of William and Isolde
Awards Secretary for 34 Courts (17 held by TRM, 17 regency, over 800 awards total.)