Dougale MacAlestyr
From MiddleWiki
Photo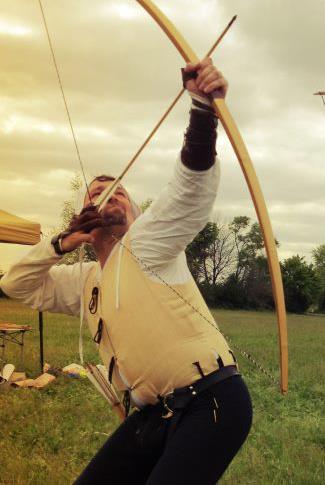 Dougale MacAlestyr
Information
Heraldry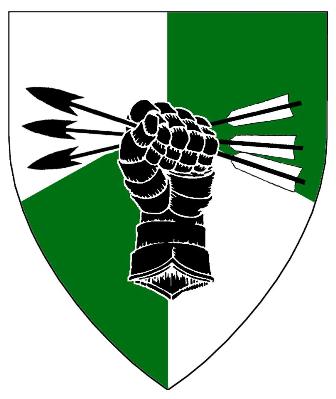 Per Pale Argent and Vert, a chevron counterchanged, a gauntlet dexter grasping three arrows sable
Persona
Dougale MacAlestyr is a post War of the Roses (1485) Scots archer.
Kingdom Awards
13 Sep 2014 Pelican MKAOD - Middle Kingdom Academy of Defense Pelican Page[[1]]
18 Mar 2011 Court Baron Gulf Wars
25 May 2014 Dragon's Heart
19 Jul 2008 Greenwood_Company Simple Day in the Country
17 Jan 2009 Doe's Grace 12th Night in Tree-Girt-Sea
15 Oct 2011 Purple Fret Fall Crown Tourney
19 Jan 2008 Dragon's Barb Festival of Maidens
15 Mar 2007 Award of Arms Gulf Wars
15 June 2002 Award of Arms Baronial Border War
05 May 2012 Royal_Augmentation_of_Arms Spring Coronation
Member of Two Dragon's Flight
09 Aug 2012 Companie of Ayreton Archers
18 Mar 2011 Midrealm Archers at Gulf Wars XX
Member of Dragon's Teeth
12 Aug 2010 Middle Kingdom Artillery and Combat Archery Corps
Member of Purple Frettys
06 Aug 2009 Ayreton_Brewers_Guild
02 Apr 2016 Middle Kingdom Photography Guild
Member of Award of the Grove
26 Aug 2017 Ayreton_Brewers_Guild
Scorpius of Ayreton A Premier of the Order
Offices & Positions
July 2013 - October 2013: Royal Archery_Champion Middle Kingdom of King Lucien_Phillip_de_Bordeaux and Queen Catarina_de_Bruyn
May 2012 - April 2013: Midlands Regional Archery_Champion
Sept 2011 - May 2012: Royal Archery_Champion Middle Kingdom of King EikBrandr_SolgyafiII and Queen Runa_Eikbrandrskona
2009-2011: Lt.General Target archery - Middle Kingdom
2007-2011: Regional Target archery Marshal - Midlands Region
2005-2007: Provincial Target archery Marshal - Tree-Girt-Sea
2010-Present Ale Connor of the Ayreton Brewers Guild, Barony of Ayreton
Known as the shogun of Ayreton, Master of the bow
https://www.youtube.com/watch?v=ylCvCwn9OG8
Event Staff
Archery Marshal
"Get Your Flight On!" Archery Practice - May 2012 Shire of Blackhawk

Royal Retainer
Queen's Tea Pennsic 38 & 37
Stone Dog Inn IV
2008 All Souls
2008 & 2007 12th Night
2008 Christmas Tourney
Many more that are not listed as I cannot remember.
Ayreton Baronial Land Agent
Projects & Publications
Custom Arrows
2012 TRMs Savaric and Juliana and family - 9 dozen
2009 Her Grace AnneLyse - 1 dozen bolts
2007 Baron Dougale MacAlestyr - 3 dozen
2006 Baroness Jane the Tall of Carlisle - 2 dozen

Brewing
2013 Pennsic XLII - Knowne World Party: Gifted 3 cases - Black IPA, Dunkleweisen, Homegrown IPA
2012 Pennsic XLI: Gifted 1 case of Mudhopper-a Black IPA, to MidRoyal encampment
2012 Gulf Was XXI: Gifted 20 gallons - Dry Stout, Wheat, Red, ESB
2011 Fall Coronation: Gifted 5 gallons of DragonFly to HRM Eikbrandr
2011 Border Skirmish: Donated 5 gallons of Rainy Day Brown Ale and 5 gallons of Ayreton Amber
2010 Pennsic XXXIX - Knowne World Party: Donated 10 gallons of Rainy Day Brown Ale and 10 gallons of DragonFly
Started brewing with Jane the Tall in 2008 as Skinny Frog Brewery and haven't looked back since. Member brewer of the Ayreton Brewers Guild
We offer a variety of beverages
Rainy Day Brown - a nut Brown
LilyPad - a wheat ale
DragonFly - an American Pale
Jane's Mahogany Porter - a coffee porter
Rua Loscann Nollaig - An Irish Red
Classes Taught
2013 Baronial Practice
2013 Festival of Maidens
Field Guide to the SCA taught with Mistress Alzbeta Michalik
2011 RUM
2010 RUM
2009 Stone Dog Inn V
Court Protocol for Beginners
Competitions
Archery
2012 Baile na Scolairi Midlands Regional Championship - Armoured Easter Egg Hunt
2010 & 2011 Pennsic Archery_Champion Team Leader
2008 Armoured Easter Egg Hunt Baile na Scolairi
2007 - 2009, 2013 Pennsic Archery_Champion team member

Brewing
Current standing within the InterKingdom Brewers Guild Journeyman Brewer

Jan 2012 Won 1st place at Milwaukee's Winter Brew Barons with a Belgian Pale Ale in catagory 17.
Oct 2011 Won 3 place at 2011 Spooky Brew Review with Rainy Day Brown Ale
More Information