Peter Grau von Bremen
From MiddleWiki
Photo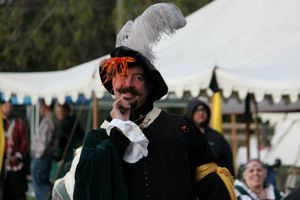 caption
Information
| | |
| --- | --- |
| Resides: | Barony of Sternfeld (Indianapolis, IN) |
| Status: | Current Member |
| Awards: | Visit the Order of Precedence to access a list of this person's awards. |
Heraldry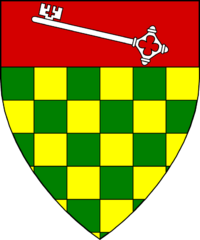 Checky vert and Or, on a chief gules a key bendwise wards to chief argent
Persona
Peter is, as his name implies, from the Hanseatic City of Bremen. Much of his adult life has been spent marching across southern Europe, on campaign in Spain, France, and Italy. They style of his armory is very Italian, with the silver key referring to Bremen's heraldry in a chief of allegiance. The checky field is an homage to his roots in The Wednesday Company, but colored to suit his tastes.
Peter can be found in two distinct times: he is best known in the 1590s, as a fencer. He serves his Kingdom in the 14th century as well.
Master of Defense Lineage
Premiere of the Order along with Colin MacNish and Anton Du Maris
Dependents: Warder Moira Eiriksdottir, Lord Aidan Storm Tyrvason
Pelican Lineage
Peter was formerly a protege of Mistress Moira MacGillavrey. He is also very grateful for the counsel and support of Mistress Caitriona MacDhonnachaidh.
Dependents: None