Kateryn Bronwen of Gloucester
From MiddleWiki
Photo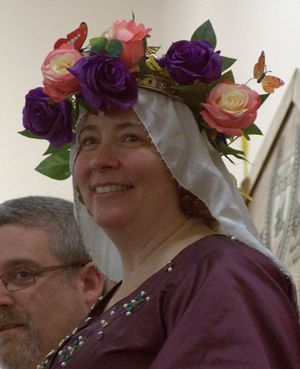 caption
Information
| | |
| --- | --- |
| Resides: | |
| Status: | Current Member |
| Awards: | {{{Awards}}} |
Heraldry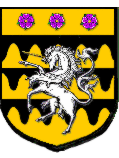 Vairy sable and Or, a unicorn rampant argent, on a chief Or three roses purpure.
About this person
Persona
Offices & Positions
Laurel Lineage
Kateryn was apprenticed to Talbot MacTaggert and Amy MacTaggert
She has the following current apprentices:
Cellach MacCormaic was her apprentice before he was elevated to the Chivalry.
Miscellany
Interests and SCA-related hobbies
Fifty-third, fifty-fifth, sixty-second, and seventy-second Queen of the Middle Kingdom with King Edmund of Hertford. Edmund and Kateryn are best known perhaps for the creation of the Children's awards of the Silver Acorn and Baton during their third reign.
Duchess Kateryn participates in a wide variety of the Arts and Sciences including costuming, cooking, pewter casting, woodworking, embroidery and calligraphy and illumination. She was made a member of the Order of the Laurel for her work in 14th Century studies and served as Kingdom Arts and Sciences champion during the reign of Alaric and Noelle winning the Pentathalon at the Kingdom Arts and Sciences competition the day before Edmund won the crown for her and made her Princess.
Reign details
53rd Reign of the Middle Kingdom
55th Reign of the Middle Kingdom
62nd Reign of the Middle Kingdom
72nd Reign of the Middle Kingdom
94th Reign of the Middle Kingdom
99th Reign of the Middle Kingdom