Konrad Mailander
From MiddleWiki
Photo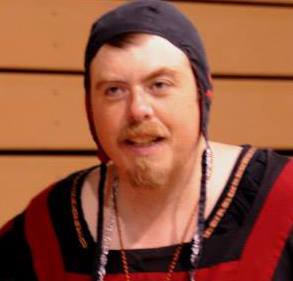 Meister Konrad Mailander
Information
Heraldry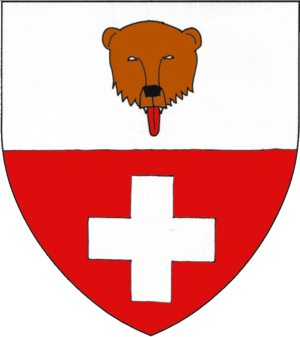 Per fess argent and gules, a brown bear's head cabossed proper and a cross couped argent.
About this person
Persona
16th century Reislaufer Hauptmann (Swiss Mercenary Captain). (Current date minus 500 years.)
Son of a Reislaufer Hauptmann and a German farmer's daughter from Bern. In his youth Konrad studied to be a priest before returning home to become a mercenary like his father. He worked his way up through the ranks to eventually become a Hauptmann himself. Konrad worked for nearly a decade in the Papal States for Pope Julius II. With the new Pope, Leo X, less concerned for securing Rome's temporal holdings Konrad has recently returned home to Bern.
Offices & Positions
March of the Marshes Herald Oct. 1994 - Feb. 1995
Red Spears Herald Feb. 1995-2000
Red Spears Web Minister 1999 - 2009
Hrothgeirsfjordr Web Minister 1999 - 200?
Red Spears Knights Marshal 2000 – 2004
Red Spears Exchequer 2006-2011
Red Spears Seneschal 2011-2016
Baronial Chivalric Champion - April 1994 - June 1995
Baronial Archery Champion - June 1996 - July 1997 & July 1998 - July 2000
Baronial Armored Combat Champion - December 1997 - June 1998
Baronial Armored Combat Champion - September 2009 - September 2010
Baronial Armored Combat Champion - September 2012 - October 2013
Red Spears XO 1998
Red Spears Commander 1999
Chronicler at Large - Publishing "The Warhogs" newsletter for Baronial Fighters 1999-2001
Middle Kingdom Unbelted Champions Team 2001-2012
North Oaken Regional XO 2002, 2003
Oaken Regional Herald 2001 to 2004, 2005
North Oaken Regional Marshal 2007-2009
Herald at Large 2004-2005, 2005-2010
Rouge Scarpe Herald (External Submissions) 2010-2016, 2017-present
Dragon Herald May 2016-September 2017
Armored Combat Marshal of the Field 2004-2007, 2009-present
Rapier Combat Marshal of the Field 2015-present
Guildmaster of the Midrealm Moneyer's Guild 2015-present
Baron of Red Spears 2017-present
Miscellany
First Recipient of the Langar Thurs - The Oaken Spear 1999
Apprentice to Master Brusten de Bearsul (gaming) since 1995
Squire to Baron Sir Gunther von Brandenburg since 2003
Head of Haus Mailander
Was named a Herald Extraordinary by Edward Dragon in 2014 and has registered the personal heraldic title Goldstreitkolb Herold (which translates as Gold Mace Herald in German).
Pelican Lineage
Konrad was never a protege.
He has the following proteges: Isibel inghean Uilliam mhic Leoid (aka Iosobail Mhic Leoid), Sorcha Ruadh inghean Lochlainn, Raffaele da Cernia, Margherita di Raffaele, & Avigayl bat Avreham
Interests and SCA-related hobbies
Heraldry, Armored Combat, Period games, Pewter casting, Moneying.