Talymar gan y Llyn
From MiddleWiki
Photo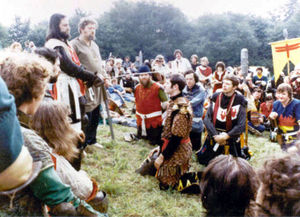 Talymar's knighting at Pennsic 8
Information
Heraldry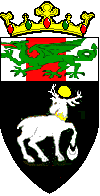 Sable, a stag counter-trippant argent, between its antlers a bezant, in sinister base an increscent argent
Alternate spelling in OP: Talymar gan y Lluwynn
Persona
Offices & Positions
Baron of Middle Marches: October 2016–present
Chivalric Lineage
One item of note is that Talymar is reportedly the first Midrealm Knight to have sat a vigil before his elevation.
He was a squire of Duke Andrew of Seldom Rest, KSCA, OP
He has the following squires:
He was elevated by the hand of King Laurelen
Pelican Lineage
Laurel Lineage
His Grace was elevated for his work in Anglo-Saxon studies. He was apprenticed to? Has no current apprentices.
Interests and SCA-related hobbies
Reign details
21st Reign of the Middle Kingdom
26th Reign of the Middle Kingdom
35th Reign of the Middle Kingdom