Cellach MacCormaic
From MiddleWiki
Photo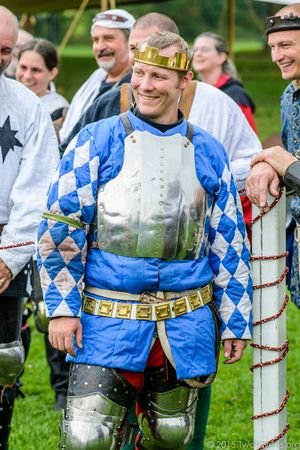 '
Information
Heraldry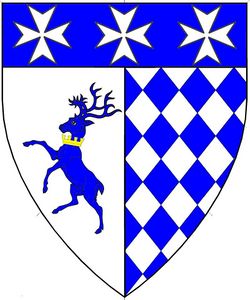 Per pale argent and lozengy argent and azure, a stag rampant azure gorged of a coronet Or, and on a chief azure three Maltese crosses argent
Persona
Late 14th Century Western European
Offices & Positions
88th King of the Middle Kingdom
Former North Oaken Regional Marshal
Former squire to Duke Edmund
Former apprentice to Duchess Kateryn
Chivalric Lineage
Cellach was squired to Duke Edmund of Hertford.
He was knighted by King Bardolph
He has the following squires: Alejandro, Edward, Gebhard Rauten, and Susanna Herst
Laurel Lineage
Cellach was apprenticed to Duchess Kateryn, but returned the apprentice belt when he became a knight. As his former Laurel, it was she who begged the boon for him to be entered into the Order of the Laurel.
He was laureled by Lucien and Catarina
Interests and SCA-related hobbies
Sir Cellach is perhaps best known for his embroidery. He is also an enthusiast of wrestling and held the Known World Wrestling Chamption belt for several years. He retired undefeated and passed on the belt in a competition at Pennsic. He is also interested in bee keeping, bread baking, dancing, and hunting.
Reign details
88th Reign of the Middle Kingdom
96th Reign of the Middle Kingdom