Evergreen
From MiddleWiki
Order of the Evergreen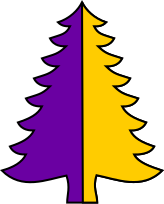 Information
| | |
| --- | --- |
| Blazon: | (Fieldless) A pine tree per pale purpure and Or. |
| Registered: | March 2005 |
| to: | Kingdom of the Middle |
The Order of the Evergreen is a Grant-level order in the Middle Kingdom.
It is given to those who have both taught and shown excellence in one or more of the arts & sciences or research.
Precedence
It is equal to the Orders of the Greenwood Company/Bronze Ring/White Lance/Gold Mace, below the Order of the Dragon's Heart, and above the Grant of Arms.
Rights and Privileges
OP Abbreviation: OE
Letters: C.E.
Title: The Honourable Lord/The Honourable Lady
Form of Address: His Lordship/Her Ladyship or Companion of the Order of the Evergreen

History
First Recipient: Jurgen von Baden - Apr 15, 2000 by TRM Finn and Tamara.

Suggested Scroll Text
Let it be known throughout the vastness of the realm that we (name of Consort), Royal Patroness (Patron) of the Arts, and (name of Sovereign) our King (Queen), are well aware of the skills and teaching accomplished by (name of recipient) in the (art/ science/research) of (reason of award). Therefore we wish for all to know of the high regard in which we hold him/her, and so we are minded to create him/her a Companion of the Order of the Evergreen. We grant unto him/her all rights and responsibilities attendant upon this rank, and the right to bear the badge "(Fieldless) A pine tree per pale purpure and Or". Given by Our hands this __ day of ___, Anno Societatis (A.S.) __ in our (location of event).