Middle Marches
From MiddleWiki
Barony Middle Marches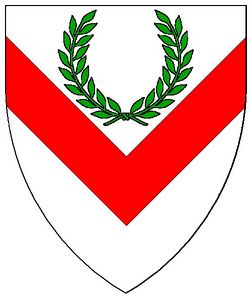 Argent, above a chevron inverted gules, a laurel wreath vert
Information
| | |
| --- | --- |
| Founded: | 1970 |
| Modern Location: | Central and Southern Ohio |
The Barony of The Middle Marches is in the Oaken Region of the Middle Kingdom. In precedence it is the second Barony of the Kingdom.
Brief History
The Barony of Middle Marches is the second oldest Barony in the Middle Kingdom (Behind Northwoods) created in 1970. The tradition at the time was to make the first group in a state a Barony. There was some dispute with the founder of the Cleftlands who thought that his group should have precedence as he had sworn fealty to King Caraidoc first, however Middle Marches was the first group to get its paperwork *properly* filed and thus the Cleftlands was made a Marche of the Barony Middle Marches.
Jehan de la Marche was the premiere Baron of Middle Marches and caused some controversy when he moved out of the Kingdom without relinquishing the title. Duke Andrew of SeldomRest was named vicar of the Barony. Jehan went on to win the Crown Tournament of the Kingdom of the East. Eventually he was removed as Baron by King Laurelen and the second Baron of Middle Marches, Galan de Reynard, was invested. Eleanor of Alnwick was invested as the first Baroness upon her marriage to Galan de Reynard about a year later.
Despite the Baronies of Cleftlands, Red Spears, Flaming Gryphon, and Brendoken forming and taking land from the original Barony Middle Marches, the Barony remains one of the largest, in terms of geography, in the Middle Kingdom.
Extended History
History of Middle Marches as told by Lady Betony ferch Meilyr ap Emrys, Middle Marches Baronial Pursuivant, residing in the March of Tirnewydd, AS XXXIV (1999).
The Beginnings of the Barony
Often, it is the unexpected that bears the most fruit. I know not if someone has quoted that before me, but it is true, nonetheless. A young man with a poet's soul and a flair for the medieval aspects of life went to the Second Tolkein Conference in Green Bay, Wisconsin, and there he found "the fledgling Chicago MK" giving a demo on October 31, 1969. Later, he attended the costume party dressed as the Green Knight and knew that he craved more times like these. 1 They were people of like mind and they banded together to create a world within a world where chivalry, pageantry, prowess of arms, agility of mind, and the mastering of the gentler arts really meant something special and was appreciated as viable, rather than archaic. John Leland quickly became Jehan de la Marche and, having arrived home from his trip to lands held by Cariadoc I, was determined to found a group of his own and hold lands from the Crown. One could say that that meeting was the start of the Barony. But was it?
Home to Jehan de la Marche was Castle Marckmont, in the modern city of Bowling Green, Ohio. He was a student at that time at Bowling Green State University (BGSU). He wasted no time and on January 7, 1970, organized the first meeting of the March of the Marshes, the first SCA branch in Ohio. Sad to say, there wasn't a very large attendance, but it was a start. He began corresponding with the national headquarters in the fabled "Kingdom of the Mists" and was quickly granted permission to begin the process of registering the SCA in the State of Ohio as a non-profit organization. As he was under the legal age of twenty-one, Jehan's father was actually the first official SCA representative for Ohio. First mention of the Barony - and remember that, at that time, it was the first branch in any state that automatically became a Barony - was February of 1970. "A Midrealm Book of Lists, Fourth Edition" most likely culled that from the minutes of old Board of Directors (or BoD) meetings. So, that could be a beginning. But was it?
It is Count Jehan's opinion that Jamie Foxx, located in what was to become the Cleft Lands, later Cleftlands, actually found the SCA before he did. Orlando Ambrosius' history maintains that Jamie attended his first official event in November of 1970 and was rescued from the side of the road in a wain that had broken down that was also loaded with children. The rescuer was Andrew of SeldomRest, later Duke Andrew. Jamie also went to the Capitol Province (before it was known as Tree-Girt-Sea) and swore personal fealty to Cariadoc I.
The stories about Jamie fall into legend, but the one folk tell most is about Jamie and the giant refuse wain. 3 The details differ sometimes, but the story is essentially the same. Jamie had a broadsword in his hands and took a mighty cut at the metal wain, which he mistook for a dragon, and dented it. The local authorities were not amused, but as Jamie was vouched for as harmless, he was released. Jamie also wrote to the national headquaters with the intention of starting his own group, but did not include his return address, so the Board of Directors could not get in touch with him. By this one small piece of neglect, or oversight if you will, the Barony of the Middle Marches came to Jehan de la Marche and not Jamie Foxx.
Growing Pangs
The first branch in any state rule applied until sometime in 1972, so it was not a matter of the Populace choosing candidates as it is in this time so far from our beginning. In this wise, Jehan became Baron, but wasn't actually confirmed in it until about a year afterward. 5
Things were more relaxed back then and many ceremonies and customs hadn't been invented yet. More importantly, neither had the styles of polite address we use today come into as much usage at that time. Letters began to pass between Jamie and Jehan and Jamie mistook Jehan's use of "my lord" to mean that he, Jamie, had the ascendancy when it was only a matter of politesse. Jamie, not realizing how rude calling another "sirrah" might be, actually used that term to Jehan. The fact that it was Jehan who had the first registered group in Ohio was eventually made plain to Jamie, who also styled himself "Margrave del Cleft Land, Protector of Shires and Waters thereto, Alcyote, Novice and Freeholder Warrior Tor Foxx Y.O.I. 1970." He was later given the title of Margrave by the Crown, the only person known to carry it. 6 Jehan styled himself Warden of the Marches at that time. Something had to be done to create unity between the two entities, so on March 6, 1970, Jehan travelled to the Cleft Land to sign a treaty with Jamie. 7 Alas, the text has been lost, but Count Jehan remembers that it was signed with two or three Cleftlanders present in an ice-cream parlor across from the Cleveland bus station. It is that date and that treaty that Count Jehan considers the actual founding of the Barony of the Middle Marches.
The Vast Expanse
Think of it, good gentle, see it in your mind's eye; a land so fruitful and yet so empty. In those early days, there was not the great number of folk that inhabit the Barony today. Yet, over it waved our banner, "Argent, above a chevron inverted gules, a laurel wreath vert." And it waves proudly still. Jehan's arms are "Gules, a crow rising, pierced by an arrow both argent." His badge is "Gules, a mace argent" for it was with a mace that the poet-warrior did his best fighting. But fighting to defend one's land is not always enough. Too often, it is the lack of folk that causes the demise of a group. Almost every group I have researched has had the same problem at one time or another. And, the Marches did not really have a Baronial identity as everything was mostly geared around the Kingdom. It was growth of membership and branches that gave us that identity and to foster that growth, Jehan began to print a newsletter. It was called "To All Persons Interested In The Society For Creative Anachronism." Having been a chronicler in my time, I can commiserate with our Founder. I, too, had late copy. I, too, tried to generate interest and let everyone know what was happening. Count Jehan was kind enough to send me copies, about a year's worth, and those newsletters give a good account of what the early Barony was like and it is a great comfort to know that much the same goes on today. Demos, announcements of fighter practice, dance practice, events, and all the news that is news.
In "The History of King Cariadoc of the Bow" to be found in Duke Finnvarr's "The Complete Tales of the Midrealm Kings" is a description of our founding Baron. "One of the most notable gentlemen of the Kingdom in those days was an outlander, Jehan de la Marche. He was originally from the South of France and was half-Paynim himself, being a Manichee heretic." According to the doctrine of Manes, "...man's soul, sprung from the Kingdom of Light, seeks escape from the Kingdom of Darkness, the body." 8 In a personal conversation at the last Blackstone Raids, Count Jehan mentioned that it was "...an open secret for the last twenty years that he was a closet Cathar." As for looking like a half-Paynim (person of Arabic extraction), it was quite true when he was younger. It is not so pronounced in these days. I saw a color portrait from a chronicle in Duke Andrew's files that showed a group of high-ranking gentles all together around the famous Fatty Lumpkin, that legendary steed of Duke Andrew and Duchess Anne. Wearing a sort of houpelande, there was our founder with thick, curly, longish black hair, olive skin browned from the sun, and there were spectacles on his proudly beaked nose.
It was true that Jehan had little fighting skill early on. That was to be expected, especially since he was using a sword and had not found that the mace was an excellent weapon for him to use. I saw his badly battered bucket-helm with the T-slit cut into the front through which to see and his sword, a silver-painted, shaved piece of rattan with bolted on blocks of wood for the quillons named "Thud and Thunder, Son of Nameless. 'Tis a mercy no one was hurt more than they were in the heat of battle in the lists and on the field. But, neither did the poet stint himself on learning the arts martial. When Andrew made Jehan a mace, the famous "Feather," the Baron quickly took to the weapon and made rapid improvement. As for his poetic skills, he could quote and make poetry by the ream and this made him a favorite with King Cariadoc, who enjoyed rhyming as well. 9
The First Baron of the Middle Marches
At the Coronation of Cariadoc of the Bow II and Diana Alene II on May 8th, 1971, Their Majesties not only raised Jehan formally to the rank of Baron, giving him an armring, but also conferred upon him the rank of Master in the Order of the Laurel. In perusing what he says of himself, I find that Count Jehan is very much like a great many Scadians of my acquaintance. Many of us feel much more at home in a medieval context than we do in a modern one. I have always found him to be the soul of gallantry and courtesy.
By the conventions of the present time, Baron Jehan didn't have a Baroness. But, standards were much more relaxed then, and so while Lady Christine the Accursed didn't have the title, she was Jehan's recognized lady during his time as Baron of the Middle Marches. They had been friends since their younger days and it later came to pass that, when Jehan moved to the Eastern Kingdom and became its Prince, Christine moved to a part of the Barony that would later gain the appellation of Tirnewydd, but was as yet unsettled. She had found a vocation helping folk with physical disabilities and, after so long a time away from her friend, married another.
Renown and legend have come to some of the gentles who gravitated to the infant Barony. More has been said of them elsewhere, but I shall name a few. 11 High amongst these names is Andrew of Seldom Rest, the Hun, mighty of arm, who grew canny in politics, and always a lover of fun and good food. Beside him was his beautiful lady wife, Anne du Fountain, tall, willowy, always willing to promote the gentler arts and wise policy, and a doughty warrioress when she thought her friends and encampment to be in danger at the First Pennsic. No less mighty in the lists was John of Seldom Rest, Andrew's brother, who later gave up the arts martial and went away, none knows where. Jason the Scarred was Andrew's brother-in-law and he eventually founded a group of his own. Barrfinn de Taahe, Duke Finnvarr's brother, later came to reside in the Marches. There is the "Goddess" Clariel, of whom I shall later speak, and Jake the Snake who enlivened the Middle Marches, but who now wishes to put his notoriety aside for a time and so I shall tell of him no further. There have been many of the great ones to make this Barony their home and so enrich it, but always remember that the Middle Marches lives or dies by the rest of its Populace.
New Beginnings
Spring is always a time for new beginnings and so it was in 1972 when Baron Jehan moved to the Land of the Tyger and soon became its Prince. Here was a pretty pass! What to do? There had never been such a happening in the Kingdom before and it was not as though Baron Jehan would not be returning to the Midrealm oftimes to see his family and friends. It was decided then, that Jehan should remain Baron and a Vicar should administrate the Barony on his behalf. King Andrew I of Seldom Rest sat himself down and thought on his choice of Vicar. It was natural that he should choose himself to be Vicar as his abode was there in the Marches and he knew what passed within the border of the Marches. And so the Barony passed several years under a Vicar's stewardship. 12 Eventually, that also changed.
Even before Andrew of Seldom Rest became the premier Knight of the Barony of the Middle Marches, he was a force with which to be reckoned. To this day, he bears the arms, "Or, a dragonfly displayed gules" and the badge, a cant upon his name, of "Gules, on a bend Or, a selle sable, a dome vert, and a rest azure."
A Hun to the blood and bone, he stands six feet tall. A disabling accident has taken the spring from his step and some of his vitality, but he is still an imposing sight to behold. It is easy to see from his older portraits, that some might have thought that bulk somewhat less than muscle. They found out to their sorrow, the strength that was his to wield if they fought him in the lists. He may have been rough and somewhat unpolished at first, but it did not take him long to acquire the veneer of civilization and then a good working knowledge of it. Much is written of him in the histories of Ambrosius and Duke Finnvarr, open them if you would know more of this man in a Kingdom's setting. Andrew was always fond of schtick, either planned or impromptu, especially being a member of the Brotherhood of H.A.M.M.S. I know not about the actual acronym; it is self-explanatory. Everday matters concering the Barony such as paperwork was something he did himself. More important matters he forwarded to Baron Jehan. He did not recall anything specific in the latter category. He is remembered of one Baronial award that was given for service called "The March Hare." This was also known as the "Marsh Hare," but "March" is the better-known term. March Hares did the "Bunny Hop" when inducting a new member. Some of the members have included Duke Andrew as "Lepus Maximus," Duke Talymar, Duchess Anne de Fountaine, Vicountess Nige of Cleftlands, Baron Galen de Renyard, and Neandir of the Flame. This award has been inactive for many, many years. A newsletter was published by the same name, but I have not come by any copies. 13
The Marches continued to grow in population during Anne and Andrew's second reign. During my delving into his personal files, it's easy to see that these two gentles were extremely busy helping new groups as far away as Kentucky, dealing with other matters in the Society, progressing about the Kingdom, winning Pennsic II and also dealing with a private, modern life that included children. No doubt, this was one contributing factor to choosing a new Baron for the Middle Marches. Laws were being enacted, ceremonies were being created to handle many kinds of situations, and so it was time to move forward.
A New Baron
Lord Galen de Renyard was elevated to the rank of Baron on the fifth day of May in AS XIII (1979) by King Laurelen Darksbane and Queen Ithriliel of Silverlake. As he was residing in Dernehealde at the time, it became the Baronial Seat for awhile. It was a smaller Middle Marches than previous as Cleftlands had become a Barony in its own right about a year before. A Norman, Galen was the sole survivor of the massacre of his family at their chateau. He made his way to England around 1350 and became a page so that he would eventually be trained for Knighthood. He was granted the arms of "Vert, a log proper embedded therein an axe bendwise sinister Or." In June of 1979, a lady of impeccable lineage, wit, and beauty, named Eleanor of Alnwick, caught both the Baron's eye and his heart at the Baronial Encounter at the March of Iron Demons. Her arms are "Sable, on a fountain, a swan naiant argent." Not long after they met, Baron Galen contracted to marry his lady and make her his Baroness, but found an impediment - she was the subject of another Barony and needed permission from her Baron to wed and be elevated! However, Galen was quite certain permission would be granted since he had ceded lands to Baron Lorimer in the first place to form the Barony of Flaming Gryphon and had a treaty with him. The happy day arrived on June 21, 1980 when the pair received permission to wed and were married and Eleanor raised to Baroness by King Talymar I. All in good fun, King Talymar demanded first rights, but, ever the gentleman; he only smiled and kissed Eleanor's hand. 14
Good Gentle, should you take the time to read the old copies of "The Vigil," you will note that there is a great deal of Baronial activity in the administration of Galen and Eleanor. They travelled a great deal, helping and teaching where they might, and the Populace thought well of this energetic pair, giving them many gifts and much regalia. They retired the "Order of the March Hare" and created new awards to show deserved recognition of their subjects. These awards are still given today.
Baronial Awards Created by Baron Galen & Baroness Eleanor
The Order of the Watchful Tower is the Baronial service award and was registered in December of 1980. It is blazoned, "Fieldless, in saltire a battle-axe and a sword inverted proper, and overall a tower gules, portalled argent."
The Order of the Golden Affadyl is given by the Baroness for chivalry on and off the field. It also was registered in December of 1980, but was updated to The Order of the Golden Affodil in 1987. It is blazoned, "Fieldless, two swords inverted in saltire surmounted by a daffodil (Narcissus pseudo-narcissus), slipped and leaved proper." This award was reblazoned in June 2002, and again in April 2006. The corrected blazon is: (Fieldless) Two swords inverted in saltire surmounted by a daffodil bell to dexter Or slipped and leaved vert.
The Arts & Sciences Baronial award is the Order of the Gilded Reed, "Fieldless, in saltire a quill pen argent and a sword inverted proper surmounted by a recorder Or." It was registered in November of 1983.
The Order of the Golden Pheon has a checkered history. It is the award given for Archery achievement. It was used for quite some time before finding out that it was in conflict with an award in the Outlands. In September of AS XXIII, it was sent with the blessing of the Dragon Herald to Laurel with the blazon, "Fieldless, two arrows inverted in saltire proper, overall a pheon inverted Or." It was pended until May of the next year because the blazon and the emblazon did not agree and Laurel wished to give time to the Barony to either resubmit with all items agreeing or to try something else. I have checked the LoAR for a full year after that date and have found nothing concerning this award. At this time, I know not if it is a "Lost Sheep" or the submission was canceled.
A Roll of Names for each of these awards will appear at the end of this history. Dates have been left off as many entries had no dates. That can be amended later, perhaps.
Third Baron & Baroness Middle Marches
A few months short of their tenth anniversary as Baron and Baroness of the Middle Marches, Galen and Eleanor stepped down and retired to private life in a most comfortable abode. In a personal, and very enjoyable interview with them, they told me they were quite insistant that Sir Thomas ap Llewellyn and his lady wife, Mistress Margaret von dem Shwartzwald, should become Baron and Baroness. Their determination made it fait accompli and so it was done in February of 1989 at the first RUM session in Ohio. At that time, Margaret was very great with child so it was fortuitous that the RUM was held in Tirnewydd. Soon after, she was delivered of a daughter, Katie. 15 Again, "The Vigil's" aid in seeing that this couple and their new daughter did a great deal for this Barony. As they travelled its still vast territory, Thomas held fast to his Knight's Oath and Mistress Margaret to her Laurel's to teach and promote the growth of what they did. Thomas loves to blow glass and Margaret is still doing wonderful things in the fiber arts. They gave a great deal of time and thought and effort at fostering a Baronial identity among it's far-flung groups and always encouraged the participation of the Populace in all SCA pursuits. I have read their words when they were troubled or happy or excited about many things. The first real Court I ever did was for them. They were so mellow and I was just scared out of my wits I would do a bad job. I calmed down after a bit and did well. Without the presence and participation these last ten years of this Welsh Knight and his Pearl of the Black Forest, the Barony would have been a much poorer place.
New Growing Pangs
It has been about two years since the shires, cantons, and marches to the North wanted to form their own Barony. There was a great deal of discussion about it from just about everyone and the Crown granted their wish. As of November of 1998, the split-off was accomplished and Barony Brendoken was created. The process for choosing a new Baron and Baroness had already begun as it was learned that Thomas and Margaret wished to step down and so six pairs of candidates and one single person made their intentions and qualifications known in order for the polling process to begin. Gwyntarian, Alderford, Thistle, and Three Towers had left the Middle Marches to form the new Barony. Falcon's Quarry became an independent Shire. The Middle Marches retained Dernehealde, Mugmort, Tirnewydd, Caer Frig, and the Incipient Shires of Gleann Iarainn and Windreach. Red Spears had already formed a new Barony and the Marche of the Marshes, as well as Hrodgeirsfjord, fall within its boundaries. Once again are we diminished, but still the Barony is vast. 16
Fourth Baron & Baroness Middle Marches
Another polling process winnowed down to three candidates (possibly two pairs and the single, it was not divulged in general) and these were sent to King Dag and Queen Elayna that They might choose the successor/s. After considerable time and thought, Their Majesties chose Sir Dilan Mac AnTsaier and his wife, Lady Una Winifreed Berry to be the new Baron and Baroness. As of this writing, the Investiture will be July 17, AS XXXIV at Melee in the March, the Return to Clontarf, in the March of Tirnewydd, presided over by Their Majesties, King Ragnvaldr and Queen Arabella.
As the historians of old, I have done my best to be accurate and to find as much information as I could. Like them, I have not been able to travel as much as I should have liked and have been dependant on the memories and recordings of others. I am honored to have compiled this history of the Barony of the Middle Marches and will add to it as time and Fortune allows, but I know that it is a living entity and its history will continue long after I am dust. I charge the wordsmith of that future time to do our legacy justice. Long live the Barony of the Middle Marches!
Cantons and Marches
Middle Marches covers 38 counties of the state of Ohio. It is comprised of six local groups. They are the Marche of Tirnewydd, the Shires of Mugmort and Dernehealde, the College of Saint Brutus, the Canton of Pferdestadt, and the Incipient Cantons of Woods End and Caer Hart.
Barons and Baronesses
There have only been 8 ruling Barons/and Baroness in the history of Middle Marches:
Baronial Champions
The Barony Middle Marches holds an annual competition for the Arts, Heavy weapons combat, Rapier, Archery and Thrown Weapons champions.
Baronial Awards
The current awards given are found here: https://middlemarches.midrealm.org/baronial-awards/
External Links
The url to their web site is https://middlemarches.midrealm.org/
Middle Kingdom Cartographer web pages detail the regions and their official groups by county and zip codes.
Created 9/26/2005 Joseph of York
Territories
Midrealm Baronies: Andelcrag, Ayreton, Brendoken, Carraig Ban, Cleftlands, Cynnabar, Donnershafen, Fenix, Flame, Flaming Gryphon, Illiton, Middle Marches, Northwoods, Red Spears, Rivenstar, Roaring Wastes, Shadowed Stars, Shattered Crystal, Sternfeld


Midrealm Shires: Afonlyn, Altenberg, Aurea Ripae, Baile na Scolairi, Blackhawk, Caer Gwyn, Cuil Choluim, Dark River, Dragon's Vale, Dragonsmark, Eastwatch, Falcon's Quarry, Grenemere, Greyhope, Mynydd Seren, Narrental, Okenshield, Qal`at Ja`far, Ravenslake, Rivenvale, Riviere Constelle, Starleaf Gate, Steren Codha, Stormvale, Swordcliff, Talonval, White Waters


Midrealm Cantons: Alderford, Border Keep, Brackendelve, Castell Gwent, Catteden, Dernehealde, Dun Traigh, Ealdnordwuda, Fearann na Criche, Foxvale, Gleann Iaruinn, Grey Gargoyles, Gwyntarian, Havenholde, Hawkes Keye, Hrothgeirsfjorthr, Lochmorrow, Marshes, Mugmort, Norborough, Nordheim, Oakford, Pferdestadt, Rimsholt, Rokkehealden, Thistle, Three Hills, Three Towers, Three Walls, Tirnewydd, Tree-Girt-Sea, Unicorn, Vanished Wood, WealdLake, Westmere, Winged Hills


Other Territories: Riding: Hawkland Moor, College: Saint Brutus


Incipient and Proto-Incipient: Auenwald, Austrigatt, Cetus, Grenemere, Woods End