Ivan Shishov
From MiddleWiki
Photo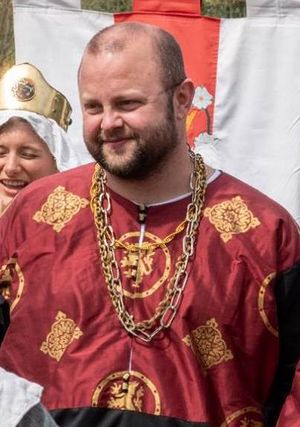 Photo taken his elevation at the Coronation of Alric and Katherine. May 2018. Photo credit: JAGG Imaging
Information
Heraldry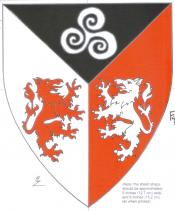 Per pall sable argent and gules, a triskelion of spirals and two tygers combattant counterchanged.
Persona
Ivan Shishov is a member of the druzhina, or military retinue, of 12th century Novgorod. He holds lands in the countryside that support his family as well as having business interests in the town.
Offices & Positions
Seneschal, Shire of Falcon's Quarry (August 2015 - August 2021)
North Oaken Regional Commander (2017-2018)
Middle Kingdom Unbelted Champions Team (2009-2017)
North Oaken Regional XO (2014 - 2017)
King's Champion for Cadogan (Oct 2014 - May 2015)
Knight's Marshal, Shire of Falcon's Quarry (2005 - 2013)
Personal
Sir Ivan is one of the founding members of Two Tygers Keep, a family-oriented household devoted to loyal service to the Kingdom.

Awards
Lineage
Ivan was squired to Sir Farthegn Rinkson who was a squire of Count Nikolai Grigorevich Petrov who was squired to Duke Comar gyr Mirand.
He was knighted by Cellach II on May 5, 2018 at the Coronation of Alric and Katherine.
Ivan has one squire, Valya Abnikova doch'.
Affiliations
Interests and SCA-related hobbies
Blacksmithing
Woodworking
Mead making
Miscellany
Other Service
Marshal-in-Charge, Brawl at the Crooked Dragon, Shire of Falcons Quarry (2014-2018)