Willow
From MiddleWiki
Order of the Willow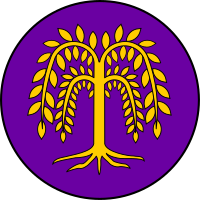 Information
| | |
| --- | --- |
| Blazon: | Purpure, a weeping willow tree eradicated Or. |
| Registered: | August 1979 |
| to: | Kingdom of the Middle |
The Order of the Willow is an award given by the Crown to those who have shown proficiency in the arts.
In practice, the Willow is not given just for participating in an art; one may be a calligrapher, for example, for many years and never receive a Willow. While the giving of this award is the prerogative of the Crown for what reasons they deem fit, in general some level of skill, research and/or teaching is expected of members of this Order.
As an arts award, the text of the Willow is written as being presented by the Queen and her King (rather than from the King and his Queen). Note; if the sovereign by right of arms is a female, this award would be given by the consort King.
Precedence
This award conveys precedence ahead of the Orders of the Dragon's Barb, Cavendish Knot, White Chamfron and Red Company and also gives armigerous status. It is equal in precedence to the Silver Oak and below a Grant of Arms.
Rights and Privileges
Recipients of this award are called Companions of the Order of the Willow and may use the letters C.W. after their name and are titled Lord/Lady. The recipients may also wear a badge blazoned: Purpure, a willow tree eradicated Or. This award is equal to the awards: Order of the Silver Oak.
History
The award is named after Queen Jessica of the Willows.
The first recipients of this Order were Asdis Stefansdottir, Ilsa von Schonau, Komura Shimitsu, Valthiona Cuthbert - Jul 19, 1975 by TRM Rolac and Lindanlorien
Suggested Scroll Text
May it be known by all that we (name of Consort), Royal Patroness (Patron) of the Arts, and (name of Sovereign) our King (Queen), right mindful of the skills that (name of recipient) hath displayed in the art of (specific mentions), wish to recognize him/her as a Companion of our Order of the Willow. We bestow upon him/her all rights and responsibilities attendant upon this rank and the right to bear the badge: Purpure, a willow tree eradicated Or, without let or hindrance from any person. Confirmed by our hands this __ day of ___, Anno Societatis (A.S.) __, in our (location of event).
See Scroll texts for standard and variation texts for this Award or Order.