Alen Elegil
From MiddleWiki
Photo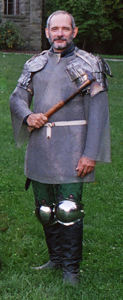 Duke Alen
Information
Heraldry

device description
Twentieth, twenty-eighth, and thirty-second King of the Middle Kingdom, Sir Alen and Syr Laurelen were knighted on the same day... at the same time. The only simultaneous double knighting in Midrealm history. It was the final round of Crown Tournament, the Chivalry had planned to knight one or both of them in the next year but it was their policy that you could not knight a reigning Prince or King, and it seemed unfair to knight one of these two excellent fighters and make the other wait because he was sitting on the throne. So, before the last, deciding round was fought, they were both knighted on the list field. Laurelen went on to win the tournement. Alen had his turn as king as well at the very next crown tournament.

Alen won the nic-name 'Countess Maker' for reigning three times with three separate Queens, Countess Genvieve, Duchess Emmelyne and Countess Isabella. Also remarkable is that all three Countesses are good friends. In fact, at his third Coronation with Isabella, his second Queen, Genvieve was the Kingdom Seneschal and he called up his first Queen, Emmelyne, and made her his King's Champion, so he had all three ladies with him on the dias!
Persona
Offices & Positions
Former Kingdom A&S Champion
Chivalric Lineage
Alen was the squire of Duke Dagan du Darregonne, KSCA, OP.
He was knighted by King Nathan and Duke Dagan (who held the sword as Nathan was not himself a knight, and only a knight can make a knight.)
He has no current squires.
Laurel Lineage
Duke Alen was never an apprentice and has no current apprentices.
Interests and SCA-related hobbies
Alen is well known for his interest in the arts, he is skilled at embroidery, nalbinding, hat and glove making. Lately he's developed an interest in 16th century Polish studies.
Reign details
20th Reign of the Middle Kingdom
28th Reign of the Middle Kingdom
32nd Reign of the Middle Kingdom