Nikolai Grigorevich Petrov
From MiddleWiki
Photo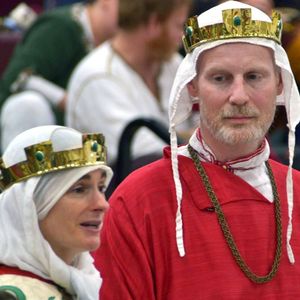 Count Nikolai and Countess Serena
Information
Heraldry

A Unicorn vert and or counterchanged per bend. This is what happens when you register a device at 18 years old after playing a lot of D&D.
Count Nikolai Grigorevich Petrov, KSCA
Persona
14th Century Kiev
Offices & Positions
Former Marche of Tyrnewydd Webminister
Former Marche of Tyrnewydd Chatelaine
Former North Oaken Regional Marshal
Former Cleftlands Youth Combat Marshal (August 1 2001 to May 31, 2015)
Miscellany
Nikolai found the SCA in 1987 (AS XXII) after moving to Columbus, OH (the March of Tirnewydd) to attend The Ohio State University. He met and began training with Duke Comar gyr Mirand at this time, eventually joining the Duke's House, Vexillarius.
In AS XXV, while Comar was Prince of the Middle Kingdom, he took Nikolai as his squire on the battlefield of the 20th Pennsic War. The ceremony occurred directly before the Unbelted Battle—Nikolai being on the team for his first time. In the battle Nikolai swung at an enemy and dropped his sword. As he bent over to regain his weapon an Eastern Unbelt killed him with a blow to the head. A rather inglorious moment in Nikolai's history. He would go on to fight on the team eight more times, including serving as co-commander at Pennsic XXVI (the first year the MidRealm Unbelts had won in many years).
Nikolai fought in his first (invitation-only) Crown Tournament around this time, fighting for his friend Lady (now Mistress) Gwyneth Banfhidhleir. He went 1-2.
Nikolai accepted the honor of becoming an apprentice to Mistress Elwynor ferch Alwyn around AS XXXI. While he learned a great deal the relationship ultimately didn't work out and it was ended. However, he and Elwynor remain friends to this day.
Nikolai first met Serena Kimbalwyke his future wife, sometime around AS XXXI. He is grateful to the SCA for this reason, if no other.
In AS XXXIII Nikolai was offered elevation into the Order of Chivalry. He was elevated by King Ragvaldr and Queen Arabella during their first reign.
Nikolai has fought on the Belted Champions team nearly every year he has attended Pennsic since. A memorably year was Pennsic 45 when the Belted battle was split into three divisions by age. Nikolai fought in the "Senior" division with the improbable choice of 9' spear (he killed two). While the Senior division didn't win, the other two divisions did—giving the Belted victory to the Middle for the first time in recent memory.
After Serena and Nikolai were wed they began fighting in Crown Tournament on a regular basis. For ten years they rarely missed the tournament, except for when Nikolai served as Champion to Queen Ceinwen or when mundane reasons kept them away.
Nikolai finally achieved victory in Crown Tournament in AS 50, defeating the mighty Gunnar Redboar 2-0 (see 92nd Reign of the Middle Kingdom).
Nikolai has had three squires. Farthegn Rinkson, Cathan Mac An Bhaird and James Ap Llewelyn. Farthegn was elevated into the Order of Chivalry; his relationship with James ended amiably; and Cathan remains his faithful squire to this day.
Nikolai and Serena lead House Strakoza.
Amongst his other honors, Count Nikolai was the first recipient of the Cleftlands Baroness's Favor in June of 2007.
Chivalric Lineage
Squire to Duke Sir Comar gyr Mirand.
Ser Nikolai has had one squire elevated to the Knighthood, Ser Farthegn.
Interests and SCA-related hobbies
Youth combat, leatherwork, lampwork.
Reign details
92nd Reign of the Middle Kingdom