Marcus Pinarius Draconarius
From MiddleWiki
Photo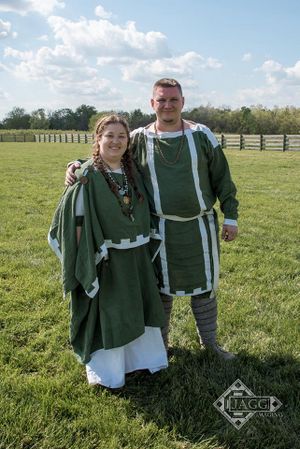 Sir Marcus and Lady Eilis
Information
Heraldry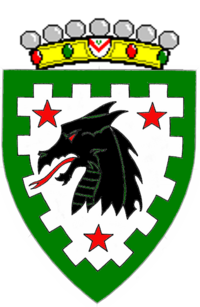 '
Marcus Pinarius Draconarius, KSCA

Persona
5th century Romano-Brit. Marcus portrays a Roman-educated, former legionary commander living in Wales during the years immediately following the final removal of Roman military force from Brittania. Marcus is married to a high-born Welsh woman descended from the Siluran tribe of South East Wales.
Offices & Positions
Marcus, along with his wife Eilis the Stone, were the 7th Baron and Baroness of the Barony of Middle Marches.
Former legionary commander of Legio IIII North Oaken.
North Oaken Regional Marshal, 2016 to 2018.

Miscellany
Former Squire to Curra Diglach McCein
Dragon's Tooth - August 2017
Order of the Chivalry - May 2017
Order of the Gold Mace - March 2017
Court Barony - March 2017
Dragon's Tooth - August 2016
Order of the Silver Oak - Jan 2014
Landed Baron, Middle Marches - October 2012 through March 2017
Order of the Red Company - October 2010
Award of Arms - January 2010

Household
Marcus and Eilis are the heads of House Draconarius, founded at the Pennsic War in A.S. 52
Interests and SCA-related hobbies
Marcus is a leatherworker and woodworker. He also studies early period culture and history.