Valharic Caligula Aurelius
From MiddleWiki
Photo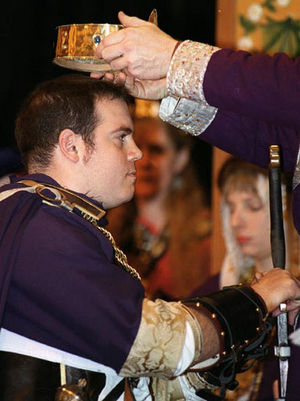 Valharic Crowned King April 13th, 2002
Information
| | |
| --- | --- |
| Resides: | Kingdom of Atlantia |
| Status: | Current Member |
| Awards: | Visit the Order of Precedence to access a list of this person's awards. |
Heraldry
[[Image:‎]]
device description
Sixty-fifth King of the Middle Kingdom and the (number?) King of the Kingdom of Atlantia, Valharic is a long time member of House Darkyard.
Persona
Byzantine Roman
Offices & Positions
Chivalric Lineage
Squire to?
Currently he has the following squires: Ulfr Forkbeard
Laurel Lineage
Apprenticed to?
Current apprentices?
Interests and SCA-related hobbies
Valharic is also well known for his prowess in the kitchen, recently elevated to the Order of the Laurel for his cooking.
Reign details - 65th King of the Middle Kingdom
Champions:
Royal Staff:
Chamberlain:
Head Retainer:
Ladies/Lords in Waiting: