Gold Mace
From MiddleWiki
Order of the Gold Mace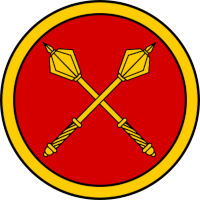 Information
| | |
| --- | --- |
| Blazon: | Gules, two flanged maces in saltire within a bordure Or. |
| Registered: | January 2005 |
| to: | Kingdom of the Middle |
The Order of the Gold Mace
The Order shall be given to individuals who, in the sight of the Crown, have shown both excellence and leadership in melee and/or tournament combat, and who have trained others in these skills.
The badge of the Order is: Gules, two maces in saltire within a bordure Or.
Precedence
The Order is below the Dragon's Heart and equal to the Evergreen, White Lance, Greenwood Company and Bronze Ring in precedence and above a bare Grant of Arms.
Rights and Privileges
The Order conveys a Grant of Arms. Those holders of the Order who have not been elevated to the Chivalry may also be styled and announced as Captains of the Red Company.

The Order includes the privileges of the Red Company, Companions of the Gold Mace will assemble when the Red Company is called into court and can wear a red cape or cloak.
History
This award was created by Finn III and Tamara.
Alaric le Fevre was the premiere of this Order made on April 8, 2000.
Originally, members of the order were styled as Lieutenants of the Red Company and recipients could only be "promoted" to Lieutenant from within the Order of the Red Company. However, additional research by the College of Heralds decided that the title and internal promotion were improper. Recipients are called Captains of the Red Company and may receive the award independently of the Order of the Red Company (although few have skipped membership in the Red Company).
Suggested Scroll Text
See, hear, and read the words of (name of Sovereign), King (Queen) by right of arms of the Middle Kingdom, and (name of Consort), Queen (King) of the Middle Kingdom. The leadership and training of our warriors is essential to the strength of the army, and we have witnessed such excellence in our subject (name of recipient). Therefore do we wish to recognize (him/her) as a Companion of the Order of the Gold Mace. We grant unto him/her all rights and responsibilities attendant upon this rank, <with the right to style himself/herself a Lieutenant of the Order Of The Red Company> (Note: If the inductee is already a member of the Chivalry, omit the Lieutenant clause). Henceforth may he/she bear the badge "Gules, two flanged maces in saltire within a bordure Or". Done by our hands this __ day of ___ , Anno Societatis (A.S.) __, in our (location of event).