Stephan Von Lubeck
From MiddleWiki
Photo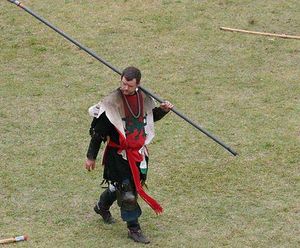 Stephan
Information
Heraldry

blazon
Baron Stephan Von Lubeck
Persona
14th? century German from the city of Lübeck.
Offices & Positions
Former Cleftlands Seneschal
Former North Oaken Regional seneschal
Current charter compliance deputy to the Kingdom Seneschal
Some position with the Unbelted Champion's team and army.
Miscellany
It is all Lubeck's fault. Seriously.
His personal motto is 'cum granis salis' Latin for "with a grain of salt" appropriate given that his persona is from Lübeck, a salt-producing city and the frequent need to take a grain of salt with the things he says!
Interests and SCA-related hobbies
In addition to armouring and fighting, Stephan is well known for his brewing and his generosity with all of his crafts. His beers may not always be the best, but he shares them freely!