Crispin de la Rochefoucauld
From MiddleWiki
Photo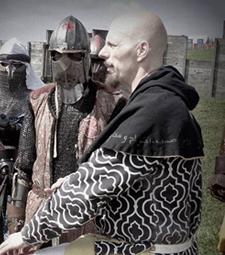 His Excellency, Sör Crispin
Information
Heraldry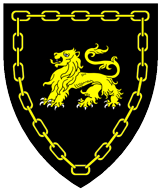 Sable, a lion statant within an orle of chain Or.
Persona
Sör Crispin al-Rumi began his SCA experience as Crispin de la Rochefoucauld, a rapier combatant for a number of years, before picking up armored combat and eventually being squired to Count Alaric le Fevre and adopting an earlier 14th century French persona. Over the years he has worn a number of hats within the SCA including event steward, mead maker and brewer, illuminator, and woodworker. He was an armored champion of the Cleftlands and served as their standard bearer after which he was the North Oaken regional commander for a run of three years. Later adopting a new persona but keeping his first name, Crispin began portraying a 12th century Turkish noble eventually taking the surname "al-Rumi" (of Rome) signifying his Christian ancestry. Elevated to the order of Chivalry in AS 48 by his Majesty Lucien Phillip de Bordeaux, Crispin became the 27th Knight of the Middle Kingdom. In the summer of AS 52, Crispin al-Rumi and Gianna Vettori became the 5th fief holders of the Barony of the Cleftlands in service to the crown of the Middle kingdom.
Offices & Positions
Baron of the Cleftlands - June 10, 2017 to April 9, 2022
Cleflands Minister of Arts & Sciences - February 25, 2015 to January 18, 2017
Cleftlands Quartermaster - Fall 2004 to September 2007
Event Steward - Northern Oaken War Maneuvers 2002 VI
Event Steward - Northern Oaken War Maneuvers 2001 V
Chivalric Lineage
Sör Crispin was elevated to the Order of the Chivalry on August 1, 2013 at the Pennsic War. He was squired to Count Alaric le Fevre.
Interests and SCA-related hobbies
Crispin is a skilled cabinetmaker. He is also fond of Illumination and Dance.