Gilebert le bracceur de Dijon
From MiddleWiki
Photo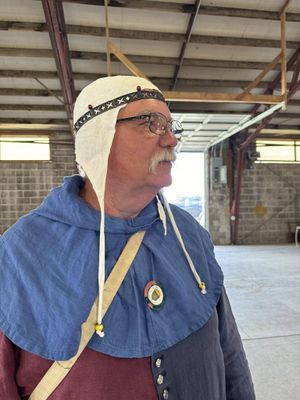 Caption Needed
Information
| | |
| --- | --- |
| Resides: | Pentamere |
| Status: | Active |
| Awards: | Visit the Order of Precedence to access a list of this person's awards. |
Heraldry Gules, semy of mascles Or
Persona
I have two personae; both of which are based in the Burgundy region of continental Europe.
During the 100 Years War, my persona lived in the Duchy of Bugundy

My primary persona is 14th century (1340's). Having survived the Great Plague, I became a soldier to the Crown to earn a living.

My other persona is of an early 12th century (1105) Crusader who became disillusioned by the politics of the Church. After returning to western Europe, I became a member of the army for Cynnabar.

I often carry the heraldry of my wife onto the field. Her heraldry is: Per pale vert and argent all semy-de-lys counterchanged.

Offices & Positions
Current:
Pentamere Regional Armored Combat Marshal - Aug 2014 to current

Previous
Rimsholt MoAS
Andelcrag Baronial Web Tech
Andelcrag Baronial Knight Marshal - Feb 2012
Kingdom Webminister - Aug 2012 to Feb 2014
Regional Herald for Pentamere
Seneschal - Canton of Rimsholt
Web Minister - Pentamere, Andelcrag, Rimsholt
Kingdom Special Deputy for Youth Rapier Combat
Staff for Dag VI and AnneMarie II and Dag VII and AnneMarie III

I have been the battlefield scheduler for Pennsic War several times. This is the person who takes all the various battlefield use requests and organizes them as best as possible to meet the needs of the requestors.
Miscellany
Kingdom Awards
Award of Arms - Given by Edmund II & Kateryn II - 1997
Award of the Purple Fret (x2) - Given by Dag III & Elaina I (1999) and Dag V and AnneMarie I - 2007
Order of the Cavendish Knot - Given by Peter and Nan - 2003
Red Company - Given by Rutgur & Ceinwen - 2010
Dragons's Heart - Given by Cellach and Vukasin - 2013
Award of the Doe's Grace - Given by Queen Arabella - 2015

Squired to Sir Alaric le Fevre
Member of Queen's Guard for Queen Arabella III (2015)

Squiring
NOTE*** This is a work in progress....

Sir Alaric and I agreed to a knight/squire relationship in 2009. The actual belting and swearing of fealty happened at Pennsic War 38, 2009.

We began our discussion at a Tournament of Chivalry held in the Barony of Flaming Gryphon, I believe in 2007. The following January 2008, we finalized the last details at Regular Event in the Cleftlands wherein I became his man-at-arms. This was to last a year and a day.

It is funny how things go sometimes. When the next year came around, my wife and I were in attendance at Regular Event 2009 (a year and a day, really!) where Sir Alaric and I were going to discuss the next step. It was feast time, and we were all getting ready to sit at our table, when His Majesty Ullr Amaranthson placed His hand on my shoulder and asked my lady and I to join Them at the head table. (You never say "No" to Their Majesties at a request like this.) Well, Sir Alaric and I did not get a chance to have that necessary conversation. So more time passed before we could make any plans.

Now comes Pennsic War 38 (2009). Sir Alaric asked me to meet him at Midrealm Royal encampment. There he would set me on the quest to gain my squire's belt.

Arts & Sciences
Classes:


Making self-stuffed buttons
Discussion on a 12th century mead recipe
How to be an Event Steward (Autocrat)
Making a period-styled helm liner
Awards
Baronial Awards - Andelcrag
Companion of the Guardant Ram - 1998
Companion of the Salient Hart - 2000
Defender of Andelcrag - 2014
Award of the Butterfly - 2016


Baronial Awards - Cynnabar
Award of the Elephant's Heart 2005-08-10
Award of the Elephant's Heart 2006-08-16
Award of the Tower's Foundation 2008-08-06
Order of the Silver Tower 2011-08-14

Interests and SCA-related hobbies
SCA-wide, I enjoy armored combat, learning about the many and various Arts & Sciences, and helping out at events.
I am now a potter and am studying the history pottery and ceramics.
Non-SCA Activities
I enjoy gardening, spending copious amounts of time with my wife, and my cats.
I also have two (currently) running fresh water aquariums: 55gal, and 90gal.
I like to watch old cheesy Sci-Fi movies and Star Trek (TOS preferred).