Tamara Di Firenze
From MiddleWiki
Photo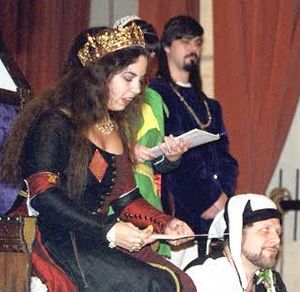 Queen Tamara at the Cleftlands January Event in 2000
Information
Heraldry

blazon
About this person
Persona
Offices & Positions
Former Kingdom Minister of Regalia
Former Kingdom Minister of Media Relations
Miscellany
Laurel Lineage
Tamara was elevated for her work in Calligraphy and Illumination.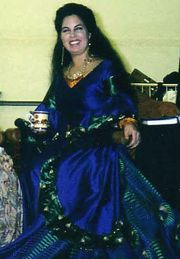 Interests and SCA-related hobbies
Sixtieth Queen of the Middle Kingdom, Countess Tamara is a skilled scribe and served the offices of the Kingdom Minister of Regalia and Media Relations. She is particularly known for producing striking scribal works on black and red papers.
Reign details
60th Reign of the Middle Kingdom