Ceinwen ferch Elidure O'Denbeigh
From MiddleWiki
Photo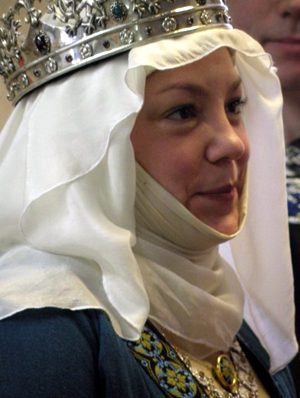 Princess Ceinwen
Information
| | |
| --- | --- |
| Resides: | |
| Status: | Current Member |
| Awards: | Visit the Order of Precedence to access a list of this person's awards. |
Heraldry

blazon
Ceinwen ferch Elidure O'Denbeigh is perhaps best known for her love of the 12th century and cooking. She was the head cook for the Coronation Feast of Rangvaldr I and Arabella I. A long time resident of the Barony of the Cleftlands she served very ably as Baronial Exchequer before having to step down from that post early on account of becoming Princess of the Midrealm.
Persona
12th Century
Offices & Positions
Former Cleftlands Baronial Exchequer
Miscellany
Cienwen is an apprentice for cooking to Master Patrick Macphalean and a protege of?
Interests and SCA-related hobbies
In addition to being an avid cook, Cienwen is fond of 12th century studies and costuming and does beautiful calligraphy and illumination.
Reign details
81st Reign of the Middle Kingdom