Runa Eikbrandrskona
From MiddleWiki
Photo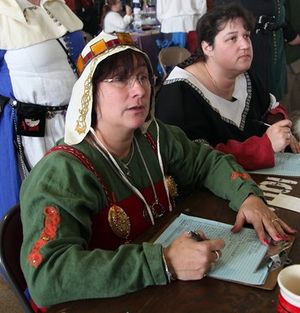 Runa running the list table at Cleftlands January event 2010
Information
Heraldry

blazon
Seventy-ninth and eighty-fourth Queen of the Middle Kingdom, Runa Eikbrandrskona (formerly known as Alexandra la Noire) is fond of the Equestrian arts and is an accomplished horsewoman. She also is fond of the fiber arts and is frequently seen with her inkle loom! She is perhaps best known for co-founding the Cleftlands glassworker's guild and crafting many beautiful works in stained glass. She is also accomplished in service, serving as a Baronial officer for several years as Chatelaine and Demonstration Coordinator.
Persona
9th Century Norsewoman
Offices & Positions
Former Cleftlands Baronial Chatelaine and Demonstration Coordinator.
Former co-leader of the Cleftland's Glassworker's Guild and Choir.
Miscellany
Interests and SCA-related hobbies
Stained glass, equestrian arts, spinning and weaving.
Reign details
79th Reign of the Middle Kingdom
84th Reign of the Middle Kingdom