Serena Kimbalwyke
From MiddleWiki
Photo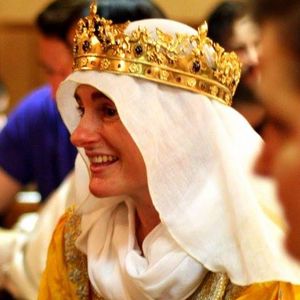 Serena as Queen 2015
Information
Heraldry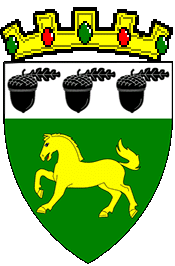 blazon
Countess Serena is best known for her fiery red hair and ofttimes fiery opinions to match. An accomplished equestrian, she is a former Dean of the Middle Kingdom Equestrian College and tri-premier of the Order of the White Lance (With Zuriel Nightshade and Mathilde of Jaravellir). Serena was elevated into the Order of the Laurel for her research and rearing of silkworms and silk processing.
Persona
A 14th century English silkworker, Serena became frustrated with the oppression of the male dominated silk system and left the industry. She took The Silk Road east to Constantinople, then ventured north across The Black Sea into Rus territory. She settled in Kiev, where she met her husband, Nikolai.
Offices & Positions
Dean of the Equestrian College
Kingdom A&S Champion 2010
Miscellany
Serena was a protege to Duchess Garlanda de Stanas
Her husband is Ser Nikolai Grigorevich Petrov and together they lead their household Strakoza
She was the priemere of the Order of the White Lance along with Zuriel Nightshade and Mathilde of Jaravellir
Laurel Lineage
Serena was never an apprentice (though she had an association with Mistress Rosamund Beauvisage).
She has four apprentices; Baroness Colette DuPré, Sargent Honor von Atzinger, Lord Gwydion Glyndour, and Lady Aurelia Rosetti.
Interests and SCA-related hobbies
Equestrian activities and sereculture (the raising of silk worms) as well as reeling and processing silk.
Reign details
92nd Reign of the Middle Kingdom