Isabella of Greycliffs
From MiddleWiki
Photo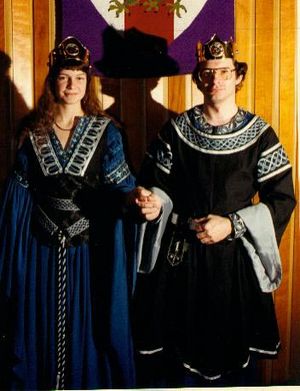 King Alen and Queen Isabella
Information
Heraldry

blazon
Thirty-second Queen of the Middle Kingdom, Isabella of Greycliffs is best known for her skill playing the lute. An excellent resource for Medieval History she teaches at Case Western Reserve University.
Persona
Offices & Positions
Miscellany
Interests and SCA-related hobbies
If you see a class at an event taught by Isabella, it is probably well worth attending! She also plays the lute but is most frequently seen helping in event kitchens.
Reign details
32nd Reign of the Middle Kingdom