Illiton
From MiddleWiki
Barony of Illiton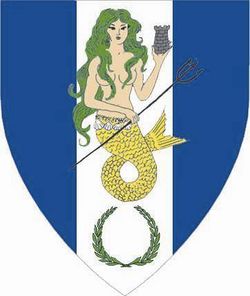 Azure, on a pale argent a mermaid erect affronty proper, scaled Or, crined vert maintaining in her right hand a trident bendwise sinister and in her left and upraised hand a grey granite tower proper, and in base a laurel wreath vert
Information
| | |
| --- | --- |
| Founded: | June 25, 1983 |
| Modern Location: | Peoria, IL Area West to the Mississippi River |
Overview
Illiton is a Barony in the Midlands Region of the Middle Kingdom.
Illiton became a barony on June 25, 1983.
Barons and Baronesses
Orson die Grosse Maur and Maria Teresa Ribeiro dos Santos (Founding Baron and Baroness)
Gareth Thorne and Catherine Oakley
Charles Cedric Morton and Alzbeta Michalik - October 21, 2006 To January 31, 2009
Wilhelm Michalik and Alzbeta Michalik - January 31, 2009 to August 27, 2016
John Inchingham and Maire ingen Dauith - August 27, 2016 to present.
External Links
Territories
Midrealm Baronies: Andelcrag, Ayreton, Brendoken, Carraig Ban, Cleftlands, Cynnabar, Donnershafen, Fenix, Flame, Flaming Gryphon, Illiton, Middle Marches, Northwoods, Red Spears, Rivenstar, Roaring Wastes, Shadowed Stars, Shattered Crystal, Sternfeld, White Waters


Midrealm Shires: Afonlyn, Altenberg, Aurea Ripae, Baile na Scolairi, Blackhawk, Cuil Choluim, Dark River, Dragon's Vale, Dragonsmark, Eastwatch, Falcon's Quarry, Fearann na Criche, Grenemere, Greyhope, Mynydd Seren, Narrental, Qal`at Ja`far, Ravenslake, Rivenvale, Riviere Constelle, Starleaf Gate, Steren Codha, Stormvale, Swordcliff, Talonval, Wurm Wald


Midrealm Cantons: Alderford, Border Keep, Brackendelve, Castell Gwent, Catteden, Dernehealde, Dun Traigh, Ealdnordwuda, Foxvale, Gleann Iaruinn, Grey Gargoyles, Gwyntarian, Havenholde, Hawkes Keye, Hrothgeirsfjorthr, Lochmorrow, Marshes, Marche of the, Mugmort, Norborough, Nordheim, Oakford, Pferdestadt, Rimsholt, Rokkehealden, Thistle, Three Hills, Three Towers, Three Walls, Tirnewydd, Tree-Girt-Sea, Unicorn, Vanished Wood, Westmere, Winged Hills


Other Territories: Riding: Hawkland Moor, College: Saint Brutus, Saint Carol on the Moor