Oakford
From MiddleWiki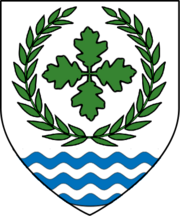 Oakford is a Canton of the Barony of Red Spears in the Oaken Region of the Middle Kingdom. Oakford serves Erie, Huron, Ottawa, and Sandusky Counties in Northern Ohio. It is nearly 50% larger than Rhode Island.
History
The Shire of Oakford was originally an incipient canton of the Barony of Red Spears. Upon achieving full status it split away as an independent shire. The name was approved by the Laurel Sovereign of Arms, Jaelle of Armida, in October of 1997 and the device was approved in April of 1998.
Oakford rejoined the Barony of Red Spears as a canton in 2013.
Members of Oakford:
Territories
Midrealm Baronies: Andelcrag, Ayreton, Brendoken, Carraig Ban, Cleftlands, Cynnabar, Donnershafen, Fenix, Flame, Flaming Gryphon, Illiton, Middle Marches, Northwoods, Red Spears, Rivenstar, Roaring Wastes, Shadowed Stars, Shattered Crystal, Sternfeld, White Waters


Midrealm Shires: Afonlyn, Altenberg, Aurea Ripae, Baile na Scolairi, Blackhawk, Cuil Choluim, Dark River, Dragon's Vale, Dragonsmark, Eastwatch, Falcon's Quarry, Fearann na Criche, Grenemere, Greyhope, Mynydd Seren, Narrental, Qal`at Ja`far, Ravenslake, Rivenvale, Riviere Constelle, Starleaf Gate, Steren Codha, Stormvale, Swordcliff, Talonval, Wurm Wald


Midrealm Cantons: Alderford, Border Keep, Brackendelve, Castell Gwent, Catteden, Dernehealde, Dun Traigh, Ealdnordwuda, Foxvale, Gleann Iaruinn, Grey Gargoyles, Gwyntarian, Havenholde, Hawkes Keye, Hrothgeirsfjorthr, Lochmorrow, Marshes, Marche of the, Mugmort, Norborough, Nordheim, Oakford, Pferdestadt, Rimsholt, Rokkehealden, Thistle, Three Hills, Three Towers, Three Walls, Tirnewydd, Tree-Girt-Sea, Unicorn, Vanished Wood, Westmere, Winged Hills


Other Territories: Riding: Hawkland Moor, College: Saint Brutus, Saint Carol on the Moor