Alderford
From MiddleWiki
March of Alderford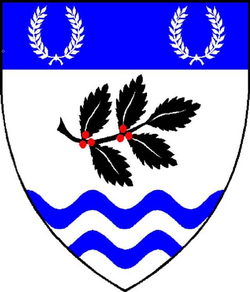 xxx
Information
| | |
| --- | --- |
| Founded: | xxx |
| Modern Location: | Stark, Carroll and Tuscarawas Counties, OH |
The Marche of Alderford is the local SCA branch in Stark, Carroll, and Tuscarawas Counties in Ohio; that is, the cities of Canton, Louisville, Massillon, New Philadelphia, Alliance, and surrounding communities. Alderford is part of the Oaken Region.
Alderford was founded on September 27, 1994 and achieved full status advancement on June 7, 1997. The group was initially a canton of the Barony of Middle Marches, and Alderford later joined the surrounding groups to form the new Barony of Brendoken.
Alderford is an active group, traditionally hosting at least two events per year: the Masque of Courtly Love (in February) and the Oaken Melee School (in July).
Territories
Midrealm Baronies: Andelcrag, Ayreton, Brendoken, Carraig Ban, Cleftlands, Cynnabar, Donnershafen, Fenix, Flame, Flaming Gryphon, Illiton, Middle Marches, Northwoods, Red Spears, Rivenstar, Roaring Wastes, Shadowed Stars, Shattered Crystal, Sternfeld


Midrealm Shires: Afonlyn, Altenberg, Aurea Ripae, Baile na Scolairi, Blackhawk, Caer Gwyn, Cuil Choluim, Dark River, Dragon's Vale, Dragonsmark, Eastwatch, Falcon's Quarry, Grenemere, Greyhope, Mynydd Seren, Narrental, Okenshield, Qal`at Ja`far, Ravenslake, Rivenvale, Riviere Constelle, Starleaf Gate, Steren Codha, Stormvale, Swordcliff, Talonval, White Waters


Midrealm Cantons: Alderford, Border Keep, Brackendelve, Castell Gwent, Catteden, Dernehealde, Dun Traigh, Ealdnordwuda, Fearann na Criche, Foxvale, Gleann Iaruinn, Grey Gargoyles, Gwyntarian, Havenholde, Hawkes Keye, Hrothgeirsfjorthr, Lochmorrow, Marshes, Mugmort, Norborough, Nordheim, Oakford, Pferdestadt, Rimsholt, Rokkehealden, Thistle, Three Hills, Three Towers, Three Walls, Tirnewydd, Tree-Girt-Sea, Unicorn, Vanished Wood, WealdLake, Westmere, Winged Hills


Other Territories: Riding: Hawkland Moor, College: Saint Brutus


Incipient and Proto-Incipient: Auenwald, Austrigatt, Cetus, Grenemere, Woods End