Donnershafen
From MiddleWiki
Barony of Donnershafen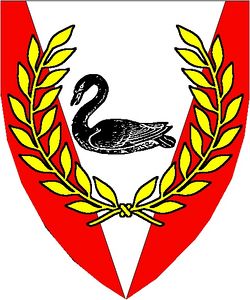 Gules, on a pile throughout argent a swan naiant sable within overall a laurel wreath Or
Information
| | |
| --- | --- |
| Founded: | September 30th, 2006 |
| Modern Location: | Traverse City, Michigan, and neighboring lands east to include Gaylord, north to include Petoskey and south to include Cadillac |
Overview
Donnershafen is a Barony in the Pentamere Region of the Middle Kingdom.
Brief History
The Shire of Donnershafen was elevated to the status of a Barony on September 30th, AS XLI (2006) at the court of Their Majesties Bardolph II and Brigh II at the Vikings Come Home XV event.
The premiere Baron and Baroness Donnershafen are Master Bjorn Hinn Heppni and the Honorable Lady Ailikn Olafdottir.
The second Baron and Baroness of Donnershafen were Cedach Muir and Meabh ingen Carthaig.
The third and current Baron and Baroness of Donnershafen are Lord Ivar Volfrkr and Marina Ivarskona.
External Links
The web page for the Barony is located at: http://www.donnershafen.org/
Territories
Midrealm Baronies: Andelcrag, Ayreton, Brendoken, Carraig Ban, Cleftlands, Cynnabar, Donnershafen, Fenix, Flame, Flaming Gryphon, Illiton, Middle Marches, Northwoods, Red Spears, Rivenstar, Roaring Wastes, Shadowed Stars, Shattered Crystal, Sternfeld, White Waters


Midrealm Shires: Afonlyn, Altenberg, Aurea Ripae, Baile na Scolairi, Blackhawk, Cuil Choluim, Dark River, Dragon's Vale, Dragonsmark, Eastwatch, Falcon's Quarry, Fearann na Criche, Grenemere, Greyhope, Mynydd Seren, Narrental, Qal`at Ja`far, Ravenslake, Rivenvale, Riviere Constelle, Starleaf Gate, Steren Codha, Stormvale, Swordcliff, Talonval, Wurm Wald


Midrealm Cantons: Alderford, Border Keep, Brackendelve, Castell Gwent, Catteden, Dernehealde, Dun Traigh, Ealdnordwuda, Foxvale, Gleann Iaruinn, Grey Gargoyles, Gwyntarian, Havenholde, Hawkes Keye, Hrothgeirsfjorthr, Lochmorrow, Marshes, Marche of the, Mugmort, Norborough, Nordheim, Oakford, Pferdestadt, Rimsholt, Rokkehealden, Thistle, Three Hills, Three Towers, Three Walls, Tirnewydd, Tree-Girt-Sea, Unicorn, Vanished Wood, Westmere, Winged Hills


Other Territories: Riding: Hawkland Moor, College: Saint Brutus, Saint Carol on the Moor