Eastwatch
From MiddleWiki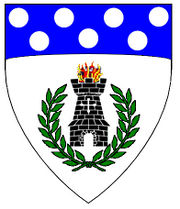 Blazon:Argent, a tower sable, issuing from its roof a beacon flame proper, the whole within a laurel wreath vert, a chief enarched azure, platy.
Geographically, the Shire of Eastwatch contains Lake, Geauga and Ashtabula counties, OH. It is bordered on the west by the Barony of the Cleftlands and the south by the March of Gwyntarian and on the east by the Kingdom of Æthelmearc
As of January '07 Eastwatch is meeting the second and fourth Monday nights of each month, and on months with 5 Mondays there is a Dessert Revel, at the VFW Hall in Fairport Harbor, OH from 6:30 - 9:00pm.
History
The Independant Shire of Eastwatch originally grew out of the Barony of the Cleftlands in the 1980s. There was some desire to become a Canton of the Cleftlands at that time, but instead they became independent.
Sir William Ransom is credited with adding the platy (affectionately known as "Snow balls") background to the group's submitted arms.
The shire enjoyed some early success hosting an annual event "Fun with Weasels" for three years which featured an "Iron Weasel Triathalon" wherein the competitors had to fight a tournament, dance and shoot an archery competition all in armour (They were allowed to remove helms and gauntlets for the dancing and archery portions.) The first "Iron Weasel" was Sir Ephraim ben Schlomo. In the third year (1997? 1998?) they added a "Decorate a weasel" arts competition which was won by Lyonnete Vibert.
Unfortunately the Shire fell fallow in the late 1990s, but recently was re-established (again with the aid of the Barony of the Cleftlands.) The group and the Barony voted for the group becoming a canton of the Cleftlands, however due to their petition for full status being stated as "The Shire of Eastwatch, a Canton of the Cleftlands" they were elevated as an independent Shire, instead of a canton and are independant once more.
=Events
The new re-formed Shire re-established the Fun with Weasels event, now in the spring instead of the fall, and added a fall archery event "Afternoon of Fun." which featured a haunted woods archery shoot that was very popular with archers. And in 2005 or 2006 they added a winter Dance and Game revel.
Current Officers
Seneschal: THL Ambrosius filius Merlinus ("Merlin") C.G.C.
Deputy Seneschal: Lord Perrin de Sable
Pursuivant: Lord Vasilli
Chatelaine: Lady Seonin inghean Ghriogair
Exchequer: Lord Muldonny McVriw
Webmistress: Lady Gianna Vettori
Resources
The Eastwatch website: http://eastwatch.org/
Territories
Midrealm Baronies: Andelcrag, Ayreton, Brendoken, Carraig Ban, Cleftlands, Cynnabar, Donnershafen, Fenix, Flame, Flaming Gryphon, Illiton, Middle Marches, Northwoods, Red Spears, Rivenstar, Roaring Wastes, Shadowed Stars, Shattered Crystal, Sternfeld, White Waters


Midrealm Shires: Afonlyn, Altenberg, Aurea Ripae, Baile na Scolairi, Blackhawk, Cuil Choluim, Dark River, Dragon's Vale, Dragonsmark, Eastwatch, Falcon's Quarry, Fearann na Criche, Grenemere, Greyhope, Mynydd Seren, Narrental, Qal`at Ja`far, Ravenslake, Rivenvale, Riviere Constelle, Starleaf Gate, Steren Codha, Stormvale, Swordcliff, Talonval, Wurm Wald


Midrealm Cantons: Alderford, Border Keep, Brackendelve, Castell Gwent, Catteden, Dernehealde, Dun Traigh, Ealdnordwuda, Foxvale, Gleann Iaruinn, Grey Gargoyles, Gwyntarian, Havenholde, Hawkes Keye, Hrothgeirsfjorthr, Lochmorrow, Marshes, Marche of the, Mugmort, Norborough, Nordheim, Oakford, Pferdestadt, Rimsholt, Rokkehealden, Thistle, Three Hills, Three Towers, Three Walls, Tirnewydd, Tree-Girt-Sea, Unicorn, Vanished Wood, Westmere, Winged Hills


Other Territories: Riding: Hawkland Moor, College: Saint Brutus, Saint Carol on the Moor