Brendoken
From MiddleWiki
Barony of Brendoken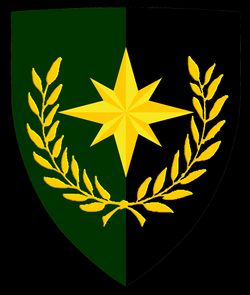 Per pale, vert and sable a compass star within a laurel wreath Or.
Information
| | |
| --- | --- |
| Founded: | Feb 21, 2004 |
| Modern Location: | Akron, Medina, Canton, and Mansfield metro areas |
Brendoken is a Barony in the North Oaken Region of the Middle Kingdom.
Cantons, Shires and Marches
The Marches of the Barony of Brendoken consist of:
Brief History
Its first seneschal was Wulfwen atte Belle; when she stepped down, Nigel fitz Maurice stepped into the leadership role. At the end of his time in office, Ailith Mackintosh became the third seneschal of the barony. During her administration, Brendoken was recognized as a shell barony by the Society on February 21, 2004. The first baron and baroness were Alexander of Hawkwood, and Catriona nicHugh Mclaey.
Under the leadership of Alexander and Catriona the fledgling barony grew and developed several traditions including Her Excellency holding a Baroness's tea at Pennsic and the emergence of the Brendoken Blades as an elite unit on the rapier field. Each year at Masque of Courtly Love the Barony celebrates its birthday and it was fitting that their first Baronial transition happened at that event, five years to the day of the creation of the Barony.
Barons and Baronesses
Baronial Awards
While Brendoken does not as of yet have any officially registered awards, they have been giving their awards with temporary names.
Events
Brendoken holds several traditional events including:
External Links
Brendoken's website can be found here: http://brendoken.org/
Territories
Midrealm Baronies: Andelcrag, Ayreton, Brendoken, Carraig Ban, Cleftlands, Cynnabar, Donnershafen, Fenix, Flame, Flaming Gryphon, Illiton, Middle Marches, Northwoods, Red Spears, Rivenstar, Roaring Wastes, Shadowed Stars, Shattered Crystal, Sternfeld


Midrealm Shires: Afonlyn, Altenberg, Aurea Ripae, Baile na Scolairi, Blackhawk, Caer Gwyn, Cuil Choluim, Dark River, Dragon's Vale, Dragonsmark, Eastwatch, Falcon's Quarry, Grenemere, Greyhope, Mynydd Seren, Narrental, Okenshield, Qal`at Ja`far, Ravenslake, Rivenvale, Riviere Constelle, Starleaf Gate, Steren Codha, Stormvale, Swordcliff, Talonval, White Waters


Midrealm Cantons: Alderford, Border Keep, Brackendelve, Castell Gwent, Catteden, Dernehealde, Dun Traigh, Ealdnordwuda, Fearann na Criche, Foxvale, Gleann Iaruinn, Grey Gargoyles, Gwyntarian, Havenholde, Hawkes Keye, Hrothgeirsfjorthr, Lochmorrow, Marshes, Mugmort, Norborough, Nordheim, Oakford, Pferdestadt, Rimsholt, Rokkehealden, Thistle, Three Hills, Three Towers, Three Walls, Tirnewydd, Tree-Girt-Sea, Unicorn, Vanished Wood, WealdLake, Westmere, Winged Hills


Other Territories: Riding: Hawkland Moor, College: Saint Brutus


Incipient and Proto-Incipient: Auenwald, Austrigatt, Cetus, Grenemere, Woods End