Clairiel du Vent Argent
From MiddleWiki
Photo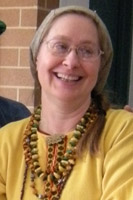 Baroness Clairiel
Information
Heraldry

blazon
Baroness Clairiel du Vent Argent has the dubious distinction of being named a goddess! She loves bright yellows and greens and broccoli and endures the 'worship' of her fans with good grace and only occasional groaning.
Persona
Offices & Positions
Miscellany
The Cleftlands Baronial Award the Order of Saint Clairiel is named after Baroness Clairiel for her many small miracles over the years.
The Kingdom Banners which hang at Pennsic Great Courts were made by Clairiel and friends, Clairiel oversees their care, transport and hanging every year and mends and replaces the banners at need.
Interests and SCA-related hobbies
Clairiel is fond of cooking, herbcraft, weaving, spinning, dying and costuming.