Doe's Grace
From MiddleWiki
Award of the Doe's Grace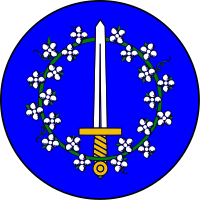 Information
| | |
| --- | --- |
| Blazon: | Azure, a sword proper enfiled of a wreath of flowers argent, slipped and leaved Or. |
| Registered: | March 1983 as Queen's Favor, July 1988 as Doe's Grace |
| to: | Kingdom of the Middle |
The Award of the Doe's Grace is an award given by the Crown to those who have shown courtesy and chivalry on or off the field.
Despite the low Precedence of this award it is very highly esteemed and regarded as it is not given often and holds special meaning for the particular Queen which gives it.
Precedence
This award conveys precedence ahead of the Dragon's Tooth, Dragon's Barb, Cavendish Knot, Red Company and White Chamfron. This award is equal to the awards: Awards of the Purple Fret and King's Chalice. It is above an Award of Arms
Rights and Privileges
If the person does not already have an Award of Arms, this award gives armigerous status. Recipients of this award may use the letters A.D.G after their name and are titled Lord/Lady. The recipients may also wear a badge blazoned: Azure, a sword proper enfiled of a wreath of flowers argent, slipped and leaved vert.
History
This award was once the award of the Queen's Favor but was renamed the Award of the Doe's Grace in memory of Duchess Eislinn the Patient who had a doe on her coat of arms.
The award was created by Queen Eislinn I
The first recipients were Graca da Alataia, Lars Vilhjalmsson the Fierce, and Otto von Schwartzkatz - Oct 30, 1982 as the Queen's Favor and Elen o Ddynevwr, Eliahu ben Itzhak, Charles Stewart O'Connor, and Jenna of Southwinds - May 7, 1988 as the Doe's Grace.