Cerridwen verch Ioreword
From MiddleWiki
Photo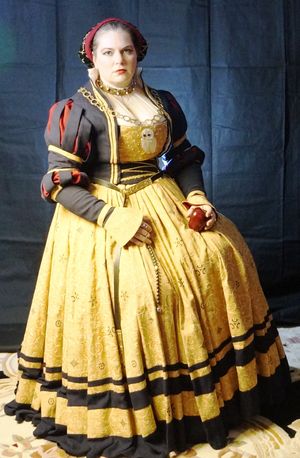 '
Information
| | |
| --- | --- |
| Resides: | |
| Status: | Current Member |
| Awards: | Visit the Order of Precedence to access a list of this person's awards. |
Heraldry
Lozengy Or and sable, on a bend gules three owls palewise Or.
Cerridwen verch Ioreword Pronounced: Kar-id-wen varch Air-word. Officially registered as Wen verch Ioreword.
Persona
Cerridwen verch Ioreword was born in Wales in 1495 to an English merchant class mother and a disinherited minor noble German father. As she grew, Cerridwen often travelled with her father, who became a merchant, learning the trade, how to keep the household, and anything else her father could teach or find someone to teach her. She has a special affinity to the arts, especially sewing and embroidery. During these travels she met and became betrothed to a Scotsman, John Roslyn the Ox, and was married shortly thereafter.
John was appointed as an ambassador to the Electorate of Saxony court in 1515, taking his young bride with him, to her father's homeland. Upon her return she was able to rekindle the ties with her father's mother and brother. When her uncle passed a few short years later with no issue of his own, she inherited his estate and lands. As a citizen of Wittenberg she is required to adhere to the applicable sumptuary laws of Wittenberg and the Holy Roman Empire and subject to the restrictions and privileges afforded to her station as a minor noblewoman and estate holder.
Offices, Positions, & Awards
First Deputy to Kingdom Seneschal
Master of the Order of the Laurel, elevated by Cellach MacCormaic and Vukasin of Lozengia on 03 May, 2014, during the 88th Reign of the Middle Kingdom. Apprenticed to Juliana Peri da Novellara.
A&S Pentathlon Champion for Their Majesties Cameron of Beckenham and Amalie of Beckenham, during the 93rd Reign of the Middle Kingdom.
A&S Kingdom Champion for a day, done so at Coronation September 24, for Their Majesties EikBrandr Solgyafi and Runa Eikbrandrskona, during the 84th Reign of the Middle Kingdom
Third Baroness of the Barony of Brendoken, North Oaken region of the Middle Kingdom. Invested, along with John Roslyn the Ox on March 1, 2014, during the 88th Reign of the Middle Kingdom by His Majesty Cellach MacCormaic
Youth Activity Coordinator for SCA 50 Year
Former Dean of the College of Youth for RUM
Court Pied Piper for Youth for Their Majesties Cadogan Blaydes and AnnMarie Morgaine, during the 90th Reign of the Middle Kingdom
Garb Mistress to Their Majesties Alric of the Mists and Katherine Vivian, during the 97th Reign of the Middle Kingdom
Kingdom Awards
Order of the Laurel
Territorial of Baroness of Brendoken

Royal Augmentation of Arms,A mullet, Or
Dragon's Heart
Royal Augmentation of Arms
Royal Augmentation of Arms
Evergreen
Purple Fret
Willow
Award of Arms
Baronial Awards
Barony of Brendoken - Golden Alderleaf
Barony of Red Spears - Order of the Ruby Chalice
Barony of Red Spears - Order van de Zuil
Barony of Red Spears - Order of the Boarsbane
Miscellany
Some examples of projects, documentation, and blog : Cerridwen's Creations
Interests and SCA-related hobbies
Passion for costuming and embroidery, although specialties are early 16th century German clothing, 16the century German sumptuary laws, Opus Anglicanum ("English Work") embroidery, and smocking. I love talking about sumptuary laws, clothing, embroidery, smocking, weaving, bead work, or anything else fiber arts. While I love a good story, ballad, performance, and/or music, I'll leave that to those who more talented in that area. I have also picked up on wood working and carving. When not playing in the Arts and Sciences, I enjoy helping water the combatants and working in the Youth activities.
Time Periods: Renaissance Era Elizabethan Era
By Century: 15th Century16th Century
Cultures: German Personas
Peerages: Laurels