Lyonnete Vibert
From MiddleWiki
Photo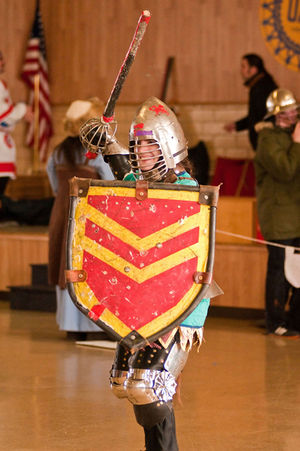 Lyonnete at the Cleftlands January event in 2010
Information
Heraldry

Gules two chevronells within a border Or
The Honorable Lady Lyonnete Vibert first found the SCA as a college student in the fall of 1992, though it wasn't until after graduation that she became truly active and started learning SCA combat.
Persona
A French Burgundian noblewoman, who was right cross when her sister went and married an Englishman.
Offices & Positions
First Cleftlands Webminister - Summer of 1998 to August 2000, succeeded by her sister Milesent Vibert
Cleftlands Chronicler - January 2003 to February 2003, She succeeded Celeste Aylene Dougherty and was succeeded by Matthew de Beaumont.
Cleftlands Needleworker's Guild mistress - September 2002 to May 2006, She succeeded Madelaine Bouvier who resigned the office when she stepped up as Baroness of Cleftlands and was succeeded by Constanza de Mendoza.
Miscellany
Squire to Sir Ephraim ben Schlomo, who himself was never a squire. Twin sister of Mistress Milesent Vibert.
Interests and SCA-related hobbies
Heavy Weapons Combat, Costuming, Calligraphy and Illumination, Poetry and Playwriting
Publications
Compleat Anachronist #?
Classes taught
It's not just a T-Tunic!
Burgundian Costume
14th Century and 15th Century hats and headdresses
How to make a fast scroll
How to rhyme without being annoying
External Links