Ephraim ben Schlomo
From MiddleWiki
Photo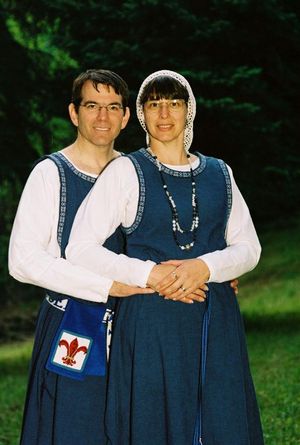 '
Information
Heraldry

Per Pale Azure and Vert three lions two and one couchant Or
Sir Ephraim ben Schlomo is perhaps best known as a courteous knight very much in love with his lovely lady, Madelaine Bouvier
Persona
Offices & Positions
Second Baron of the Cleftlands, retired.
Former Cleftlands Seneschal
Miscellany
First Autocrat (and founder) of the Cleftlands January Event.
Chivalric Lineage
Sir Ephraim was never a squire, he has two squires of his own, Lothar de Normandie and Lyonnete Vibert.
Interests and SCA-related hobbies
Asside from armoured combat, which Sir Ephraim does less often now, being a peace loving man, he occasionally indulges in rapier combat but is perhaps best known for his bardic activities having composed the Baronial fight song.